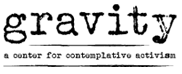 Gravity, a Center for Contemplative Activism, is a non-profit organization in Omaha, Nebraska. Launched by Phileena and Chris Heuretz, former co-executive directors for Word Made Flesh, the center partners with individuals, churches, faith communities, organizations and foundations in an effort to nurture the connection between mysticism and activism.
Gravity aims to support the development of Christian consciousness in the 21st century by making contemplative practices accessible to individuals, communities and organizations that engage the challenging social justice perils of our time.
Gravity grounds social engagement in Christian contemplative spirituality, to do good better by facilitating contemplative retreats, spiritual direction and pilgrimage to places of religious significance as well as places marked by profound pain and hope.
To learn more about Gravity, their retreats, pilgrimages, and resources, click here.
To follow the Gravity Center's twitter, click here.
To find out more about upcoming events, click here.