A Culture of Engagement: Law, Religion, and Morality
Posted on March 5, 2017 by PLT Staff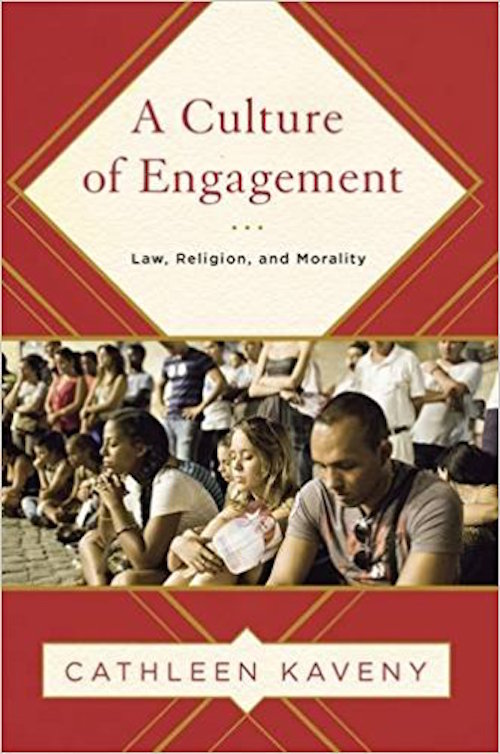 From the publisher:
Religious traditions in the United States are characterized by ongoing tension between assimilation to the broader culture, as typified by mainline Protestant churches, and defiant rejection of cultural incursions, as witnessed by more sectarian movements such as Mormonism and Hassidism. However, legal theorist and Catholic theologian Cathleen Kaveny contends there is a third possibility—a culture of engagement—that accommodates and respects tradition. It also recognizes the need to interact with culture to remain relevant and to offer critiques of social, political, legal, and economic practices.
Kaveny suggests that rather than avoid the crisscross of the religious and secular spheres of life, we should use this conflict as an opportunity to come together and to encounter, challenge, contribute to, and correct one another. Focusing on five broad areas of interest—Law as a Teacher, Religious Liberty and Its Limits, Conversations about Culture, Conversations about Belief, and Cases and Controversies—Kaveny demonstrates how thoughtful and purposeful engagement can contribute to rich, constructive, and difficult discussions between moral and cultural traditions.
This provocative collection of Kaveny's articles from Commonweal magazine, substantially revised and updated from their initial publication, provides astonishing insight into a range of hot-button issues like abortion, assisted suicide, government-sponsored torture, contraception, the Ashley Treatment, capital punishment, and the role of religious faith in a pluralistic society. At turns masterful and inspirational, A Culture of Engagement is a welcome reminder of what can be gained when a diversity of experiences and beliefs is brought to bear on American public life.
Publication Information
Author: Cathleen Kaveny
Publication Type: Book
Publisher:Georgetown University Press
Date of Publication:March 2016
Purchase: Buy this publication »