And Your Daughters Shall Prophesy: Stories from the Byways of American Women and Religion
Posted on November 8, 2020 by PLT Staff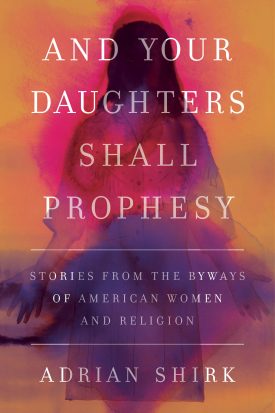 From the publisher:
And Your Daughters Shall Prophesy is a powerful, personal exploration of American women and their theologies, weaving connections between Adrian Shirk's own varied spiritual experiences and the prophetesses, feminists, and spiritual icons who have shaped this country.
Laced throughout this hybrid memoir are stories of American religious traditions revised by women. Shirk collects the histories of astrologers, faith healers, preachers, priestesses, mambos, and mediums who've had to find their own ways toward divinity outside prescribed patriarchal orders. Each woman represents a pathway for Shirk's own spiritual inquiries. She introduces us to the New Orleans high priestess Marie Laveau, the pop New Age pioneer Linda Goodman, the prophetic vision of intersectionality as preached by Sojourner Truth, "saint" Flannery O'Connor, and so many more.
Through her journey, Shirk discovers that, as the culture wars flatten religious discourse and shred institutional trust, more and more Americans are yearning for alternative, individualized, feminist routes through religion. And women, having spent so much time at the margins of religious discourse, illuminate its darkened corners.
And Your Daughters Shall Prophesy is a beacon to those who are searching for a spirituality of resistance, for an unsteady truth. It draws a line from our own era of unrest to the women who came before us, those fascinating innovators, boundary crossers, paradoxes, and radical justice seekers.
Publication Information
Author: Adrian Shirk
Publication Type: Book
Publisher:Counterpoint Press
Date of Publication:August 2017
Purchase: Buy this publication »