Ecologies of Grace: Environmental Ethics and Christian Theology
Posted on December 29, 2015 by PLT Staff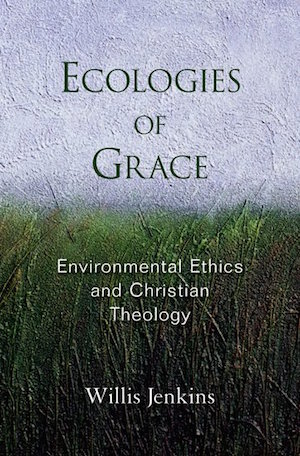 From the publisher:
Christianity struggles to show how living on earth matters for living with God. While people of faith increasingly seek practical ways to respond to the environmental crisis, theology has had difficulty contextualizing the crisis and interpreting the responses.
In Ecologies of Grace, Willis Jenkins presents a field-shaping introduction to Christian environmental ethics that offers resources for renewing theology. Observing how religious environmental practices often draw on concepts of grace, Jenkins maps the way Christian environmental strategies draw from traditions of salvation as they engage the problems of environmental ethics. He then uses this new map to explore afresh the ecological dimensions of Christian theology.
Jenkins first shows how Christian ethics uniquely frames environmental issues, and then how those approaches both challenge and reinhabit theological traditions. He identifies three major strategies for making environmental problems intelligible to Christian moral experience. Each one draws on a distinct pattern of grace as it adapts a secular approach to environmental ethics. The strategies of ecojustice, stewardship, and ecological spirituality make environments matter for Christian experience by drawing on patterns of sanctification, redemption, and deification.
He then confronts the problems of each of these strategies through critical reappraisals of Thomas Aquinas, Karl Barth, and Sergei Bulgakov. Each represents a soteriological tradition which Jenkins explores as an ecology of grace, letting environmental questions guide investigation into how nature becomes significant for Christian experience.
By being particularly sensitive to the ways in which environmental problems are made intelligible to Christian moral experience, Jenkins guides his readers toward a fuller understanding of Christianity and ecology. He not only makes sense of the variety of Christian environmental ethics, but by showing how environmental issues come to the heart of Christian experience, prepares fertile ground for theological renewal.
Publication Information
Author: Willis Jenkins
Publication Type: Book
Publisher:Oxford University Press
Date of Publication:February 2008
Purchase: Buy this publication »