Faithful Citizen Curriculum
Posted on June 30, 2015 by PLT Staff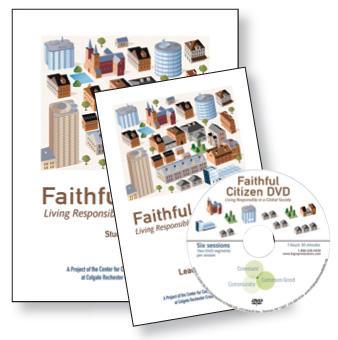 From the publisher:
Faithful Citizen is a six-session small group adult study developed by a team of pastors and seminary professors that explores two views of current American life—individualism and the common good—and asks how to faithfully respond to the interlocking global challenges of economics, ecology, security and health.
The course includes a DVD with six 10-minute conversations between renowned sociologist Robert Bellah, author of Habits of the Heart: Individualism and Commitment in American Life, and Donald W. Shriver Jr., Emer. Pres., Union Theological Seminary (NYC). The DVD also includes six 5-minute clips that uncover the challenges, tensions, and unresolved dilemmas created by the current global situation.
Each session may be conducted in one hour or expanded to include a meal and personal sharing. Sessions themes are as follows:
Session 1: Global Society "Why worry about the world's troubles? I've got enough of my own!"
Session 2: Global Economy "Is my job going to China?"
Session 3: Global Ecology "I've changed my light bulbs. Now what?"
Session 4: Global Security and Governance"Why don't I feel safe? And besides, why do they hate us?"
Session 5: Global Health "Why risk getting shots if plenty of other people refuse to be immunized?"
Session 6: Civic Virtue "How can we teach citizenship? We don't even have time to eat together!"
Principal Writer: Paul E. Stroble
Editor: Dana K. Horrell
Writing and Editorial Team: Eric Mount Jr., Donald W. Shriver, Peggy L. Shriver, Roderic P. Frohman
An online version is available at  www.faithfulcitizenstudy.com (2011).
Publication Information
Author: Faithful Citizen, Inc.
Publication Type: Curriculum
Publisher:Logos Production, Inc.
Date of Publication:2012
Purchase: Buy this publication »