The Human Tradition in the Civil Rights Movement
Posted on March 6, 2017 by PLT Staff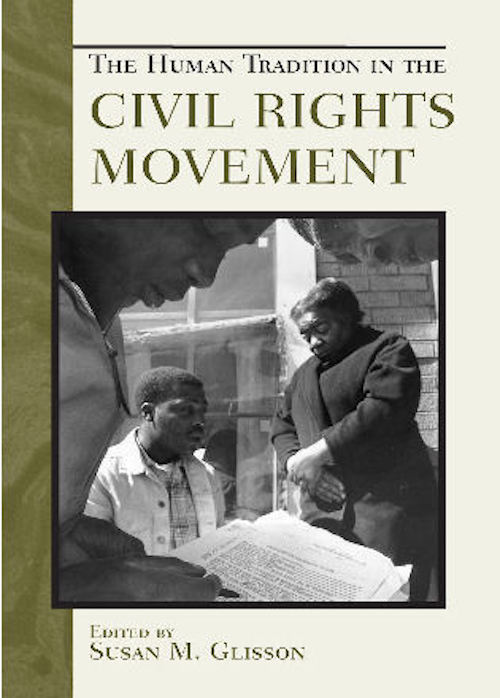 From the publisher:
The American civil rights movement represents one of the most remarkable social revolutions in all of world history. While no one would discount the significance of the leadership of Martin Luther King and others, we should also recognize that the fight could not have been waged without the countless foot soldiers in the trenches.
As an important corrective to the traditional "great man" studies, these essays emphasize the importance of grassroots actions and individual agency in the effort to bring about national civil renewal. These biographies assert the importance of individuals on the local level working towards civil rights and the influence that this primarily African-American movement had on others including La Raza, the Native American Movement, feminism, and gay rights.
Through engaging biographies of such varied individuals as Abraham Galloway, Ida B. Wells, James K. Vardaman, Jose Angel Gutierrez, and Sylvia Rivera, Glisson widens the scope of most Civil Rights studies beyond the 1954–1965 time frame to include its full history since the Civil War. By widening the time frame studied, these essays underscore the difficult, often unrewarded and generational nature of social change.
Publication Information
Author: Crystal Anderson, Eric Arnesen, Paul R. Beezley, David Cecelski, Constance Curry, Jay Driskell, Minoa Uffleman-Evans, Carol Giardina, David Libby, Ernest M. Limbo, Robert E. Luckett Jr., Shomari Olugbala, Layli Phillips, Jennifer A. Stollman, Timothy B. Tyson, Christopher Waldrep
Editor: Susan Glisson
Publication Type: Book
Publisher:Rowman & Littlefield
Date of Publication:September 2006
Purchase: Buy this publication »