Life's Too Short to Pretend You're Not Religious
Posted on November 17, 2015 by PLT Staff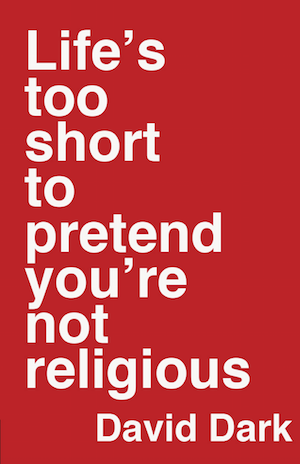 From the publisher:
For many of us, the word "religious" immediately evokes thoughts of brainwashing, violence and eye-rubbingly tiresome conversations. Why not be done with it? David Dark argues that it's not that simple.
The ease with which we put the label on others without applying it to ourselves is an evasion, a way of avoiding awareness of our own messy allegiances. Dark writes: "If what we believe is what we see is what we do is who we are, there's no getting away from religion."
Both incisive and entertaining, Life's Too Short to Pretend You're Not Religious combines Dark's keen powers of cultural observation with candor and wit. Equal parts memoir and analysis, Dark persuasively argues that the fact of religion is the fact of relationship. It's the shape our love takes, the lived witness of everything we're up to for better or worse, because witness knows no division.
Looking hard at our weird religious background (Dark maintains we all have one) can bring the actual content of our everyday existence—the good, the bad and the glaringly inconsistent—to fuller consciousness. By doing so, we can more practically envision an undivided life and reclaim the idea of being "religious."
Publication Information
Author: David Dark
Publication Type: Book
Publisher:InterVarsity Press
Date of Publication:February 2016
Purchase: Buy this publication »