Madness: American Protestant Responses to Mental Illness
Posted on October 28, 2016 by PLT Staff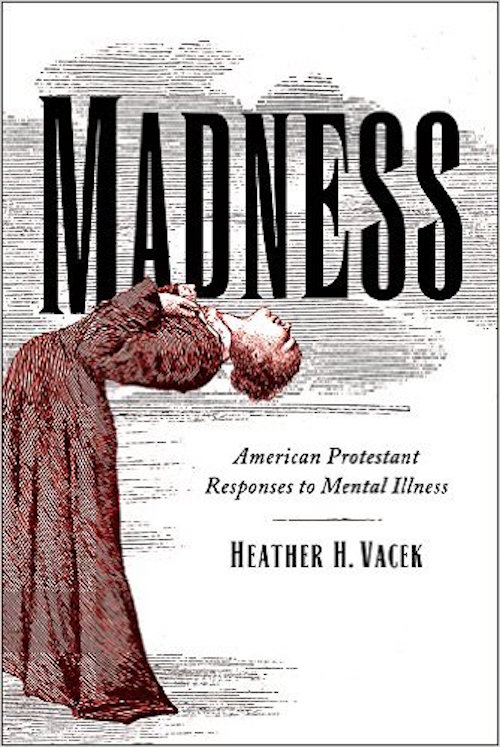 From the publisher:
Madness is a sin. Those with emotional disabilities are shunned. Mental illness is not the church's problem.
All three claims are wrong.
In Madness, Heather H. Vacek traces the history of Protestant reactions to mental illness in America. She reveals how two distinct forces combined to thwart Christian care for the whole person. The professionalization of medicine worked to restrict the sphere of Christian authority to the private and spiritual realms, consigning healing and care—both physical and mental—to secular, medical specialists. Equally influential, a theological legacy that linked illness with sin deepened the social stigma surrounding people with a mental illness. The Protestant church, reluctant to engage sufferers lest it, too, be tainted by association, willingly abdicated care for people with a mental illness to secular professionals.
While inattention formed the general rule, five historical exceptions to the pattern of benign neglect exemplify Protestant efforts to claim a distinctly Christian response. A close examination of the lives and work of colonial clergyman Cotton Mather, Revolutionary era physician Benjamin Rush, nineteenth-century activist Dorothea Dix, pastor and patient Anton Boisen, and psychiatrist Karl Menninger maps both the range and the progression of attentive Protestant care. Vacek chronicles Protestant attempts to make theological sense of sickness (Mather), to craft care as Christian vocation (Rush), to advocate for the helpless (Dix), to reclaim religious authority (Boisen), and to plead for people with a mental illness (Menninger).
Vacek's historical narrative forms the basis for her theological reflection about contemporary Christian care of people with a mental illness and Christian understanding of mental illness. By demonstrating the gravity of what appeared—and failed to appear—on clerical and congregational agendas, Vacek explores how Christians should navigate the ever-shifting lines of cultural authority as they care for those who suffer.
Publication Information
Author: Heather H. Vacek
Publisher:Baylor University Press
Date of Publication:August 2015
Purchase: Buy this publication »