Stories of Struggle: The Clash over Civil Rights in South Carolina
Posted on March 22, 2021 by PLT Staff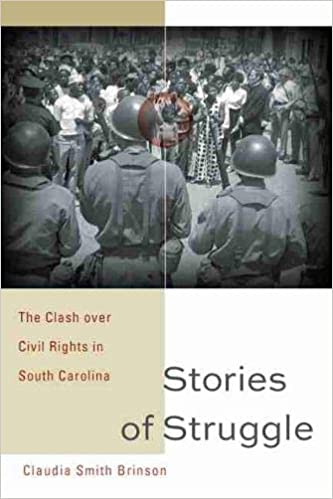 From the publisher:
In this pioneering study of the long and arduous struggle for civil rights in South Carolina, longtime journalist Claudia Smith Brinson details the lynchings, beatings, bombings, cross burnings, death threats, arson, and venomous hatred that black South Carolinians endured―as well as the astonishing courage, devotion, dignity, and compassion of those who risked their lives for equality.
Through extensive research and interviews with more than one hundred fifty civil rights activists, many of whom had never shared their stories with anyone, Brinson chronicles twenty pivotal years of petitioning, preaching, picketing, boycotting, marching, and holding sit-ins. Participants' use of nonviolent direct action altered the landscape of civil rights in South Carolina and reverberated throughout the South.
These firsthand accounts include the unsung petitioners who risked their lives by supporting Summerton's Briggs v. Elliot, a lawsuit that led to the historic Brown v. Board of Education decision; the thousands of students who were arrested and jailed in 1960 for protests in Rock Hill, Orangeburg, Denmark, Columbia, and Sumter; and the black female employees and leaders who defied a governor and his armed troops during the 1969 hospital strike in Charleston.
Brinson also highlights contributions made by remarkable but lesser-known activists, including James M. Hinton Sr., president of the South Carolina Conference of Branches of the National Association for the Advancement of Colored People; Thomas W. Gaither, Congress of Racial Equality field secretary and scout for the Freedom Rides; Charles F. McDew, a South Carolina State College student and co-founder of the Student Nonviolent Coordinating Committee; and Mary Moultrie, grassroots leader of the 1969 hospital workers' strike.
These intimate stories of courage and conviction, both heartbreaking and inspiring, shine a light on the progress achieved by nonviolent civil rights activists while also revealing white South Carolinians' often violent resistance to change. Although significant racial disparities remain, the sacrifices of these brave men and women produced real progress―and hope for the future.
Publication Information
Author: Claudia Smith Brinson
Publication Type: Book
Publisher:University of South Carolina Press
Date of Publication:November 2020
Purchase: Buy this publication »