This Worldwide Struggle: Religion and the International Roots of the Civil Rights Movement
Posted on August 15, 2017 by PLT Staff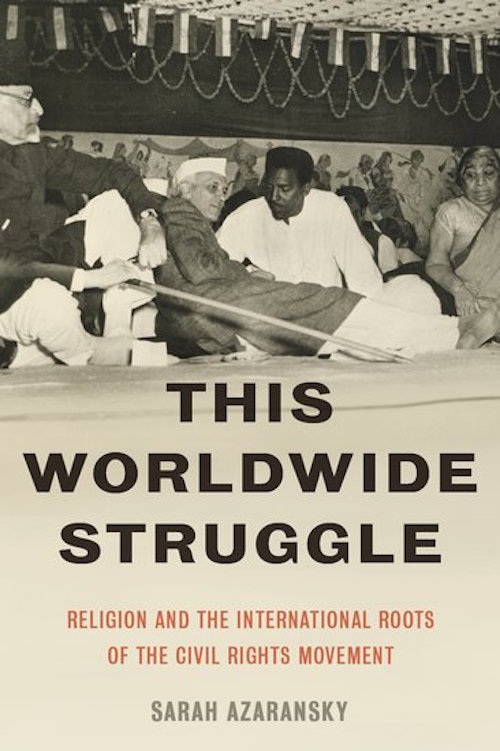 From the publisher:
This Worldwide Struggle: Religion and the International Roots of the Civil Rights Movement identifies a network of black Christian intellectuals and activists who looked abroad, even in other religious traditions, for ideas and practices that could transform American democracy. From the 1930s to the 1950s, they drew lessons from independence movements around for the world for an American racial justice campaign. Their religious perspectives and methods of moral reasoning developed theological blueprints for the classical phase of the Civil Rights Movement.
The network included professors and public intellectuals Howard Thurman, Benjamin Mays, and William Stuart Nelson, each of whom met with Mohandas Gandhi in India; ecumenical movement leaders, notably YWCA women, Juliette Derricotte, Sue Bailey Thurman, and Celestine Smith; and pioneers of black Christian nonviolence James Farmer, Pauli Murray, and Bayard Rustin. People in this group became mentors and advisors to and coworkers with Martin Luther King and thus became links between Gandhi, who was killed in 1948, and King, who became a national figure in 1956.
Azaransky's research reveals fertile intersections of worldwide resistance movements, American racial politics, and interreligious exchanges that crossed literal borders and disciplinary boundaries, and underscores the role of religion in justice movements. Shedding new light on how international and interreligious encounters were integral to the greatest American social movement of the last century, This Worldwide Struggle confirms the relationship between moral reflection and democratic practice, and it contains vital lessons for movement building today.
Publication Information
Author: Sarah Azaransky
Publication Type: Book
Publisher:Oxford University Press
Date of Publication:June 2017
Purchase: Buy this publication »