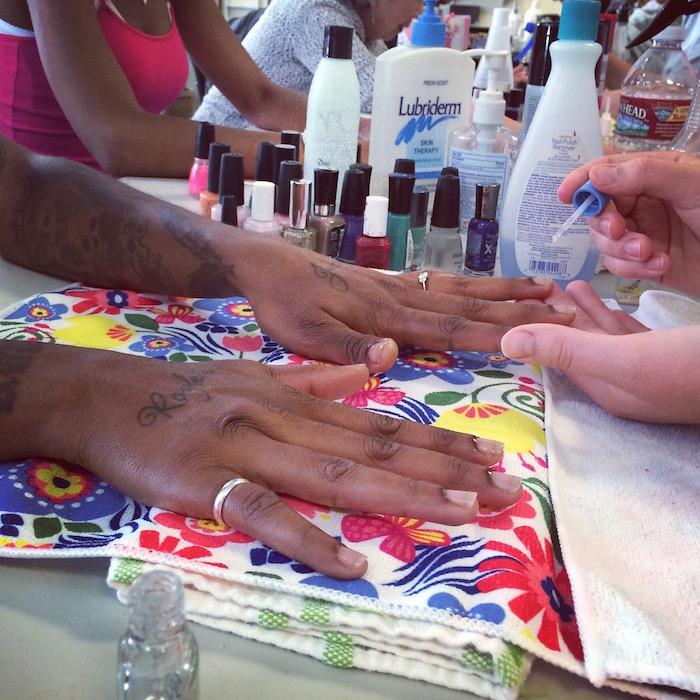 If you walk through the doors of the building where I work on a Monday afternoon a woman named Kimmie* will undoubtedly greet you. She will probably be wearing her trademark rainbow fedora, leggings beneath jean shorts, and something hot pink. She'll take a pink earphone out of her ears and you'll hear pop music blaring as she introduces herself. Then she'll want you to meet Mama J (also known as Julia), a BJM staff member and something of a surrogate mother to Kimmie. When Kimmie found housing earlier this month (a literal miracle in the Tenderloin), she immediately called Julia and they rejoiced together. Julia even gathered the BJM staff together to host a house-warming party for Kimmie. I felt privileged to attend this party and to be welcomed into Kimmie's home after helping carry a few gifts there.
This may sound strange, but there is one factor that makes Julia and Kimmie's relationship especially meaningful to me: Kimmie is transgender. To be honest, when I came to BJM, knowing that it grew out of an evangelical Christian missions organization, I was a little fearful of how they would view and treat trans people in the city. I thought, if I have to spend my entire summer either biting my tongue or trying to convince these people to call a transgender woman "she," I'm not going to make it. Fortunately, from the first day, BJM dispelled the assumptions that I was trying to resist making.
Now, I don't want to misrepresent BJM. Although Julia is affirming of transgender lifestyles, from what I can tell, most people here foster a fairly traditional understanding of gender identity. However, there is diversity of opinion, and most of all, there is an attitude of respect for all people. Regardless of her anatomy, if a person who identifies as a woman comes through our doors, she will be referred to by the pronoun she chooses. But, in reality, that's pretty superficial. That's the bare minimum of what BJM strives to do. Every Monday, BJM hosts an outreach called Nail Day in which women from the community come for free manicures. Many trans women attend. Volunteers and staff hold their hands, look into their eyes, and talk with them for about 45 minutes at a time. It's an intimate moment. This is more than respect; this is love.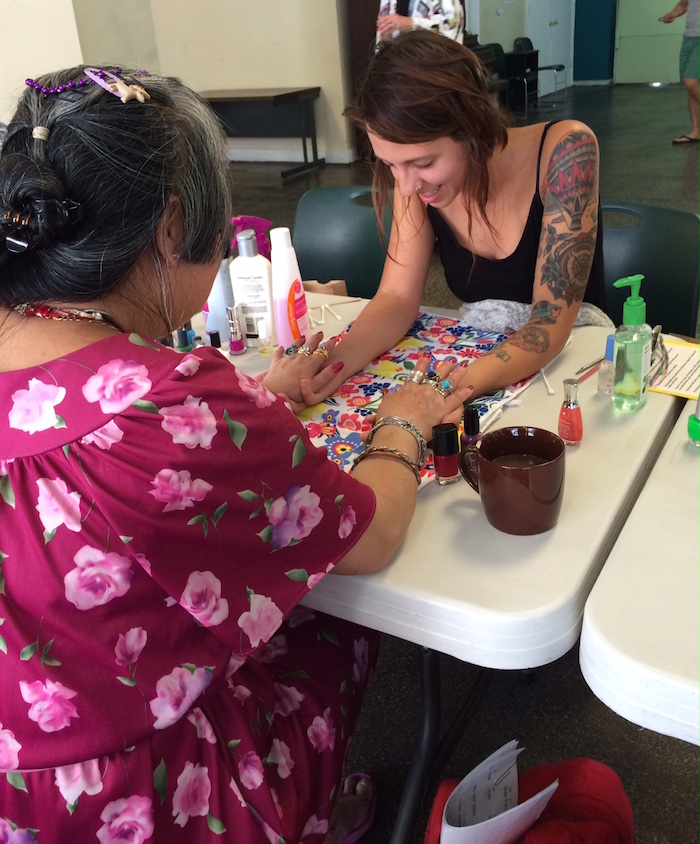 Although some of my thoughts and opinions are still more progressive than many at BJM, somehow I know that if get on a high horse I will get knocked down. So I've gone ahead and taken my foot out of the stirrup. I may have read scholarly articles by trans people. I may be swimming in a sea of queer theology and academic jargon. I may even be "Safe Space" certified, but this does not mean that I know how to love trans people. Political correctness is not love. The women of BJM are teaching me how to love trans women. And Jesus is teaching us all.
Over the past few weeks I've been reading The Long Loneliness, the autobiography of the legendary Catholic social activist Dorothy Day. As the publisher raves on the back cover, Day was "unstinting in her commitment to peace, nonviolence, racial justice, and the cause of the poor and the outcast." She was at the forefront of the social revolutions of her time and an inspiration to activists like Thomas Merton, Michael Harrington, Cesar Chavez, and many more.
As I read her story, I too am inspired by her courage, her compassion, and her piety. But sometimes…. I think she's kind of sexist. Especially when she says things like,
"I am quite ready to concede now that men are the single-minded, the pure of heart, in these movements. Women by their very nature are more materialistic, thinking of the home, the children, and of all things needful to them, especially love…" (The Long Loneliness, 60)
Day was quite obviously forward-thinking, but how could she have said these things about women? How could she care so much about socioeconomic inequality but not about gendered inequality? In The Moral Vision of Dorothy Day: A Feminist Perspective, June O'Connor recognizes that Day's moral vision was affected by "sexist thought patterns that she inherited and sustained," but she argues that there is a "hidden feminist dimension" to her writings. In essence, she, like all of us, was trapped in her time. This doesn't make her impervious to critique, but it does make her understandable.
In response, I've been asking myself the following questions:
If someone read my autobiography 100 years from now, which of my opinions would seem incredibly shortsighted and ignorant to her?
In what ways am I "trapped in my time"?
What are my ugly thoughts?
I've been trying to apply this to my thoughts about transgender people and other marginalized groups. I haven't had any breakthroughs. While I'm happy to distance myself and point out that "the Church's" thoughts about women, homosexuals, and others have been ugly, I can't fully exclude myself from this group. Although I've changed as I've studied, prayed, and listened over the past few years–and I believe that God, in Her graciousness, has redeemed many of my thoughts–I'm far from having it all right. It's still much easier to see the speck in someone else's eye than the log in your own. I think Jesus said that…
Mostly I'm just thankful that I'm only 21. I have plenty of time for self-critique. In a particularly frank moment of self-scrutiny, Dorothy Day wrote this:
"I do not know how sincere I was in my love of the poor and my desire to serve them… I wanted to go on picket lines, to go to jail, to write to influence others and so make my mark on the world. How much ambition and how much self-seeking there was in all this!" (60)
Sometimes I see this attitude in myself and I'm actively trying to resist it. I thank God for bringing me to BJM and for introducing me to people like Kimmie as I continue this struggle.
*Names have been changed to protect the privacy of the women in this community.