---
---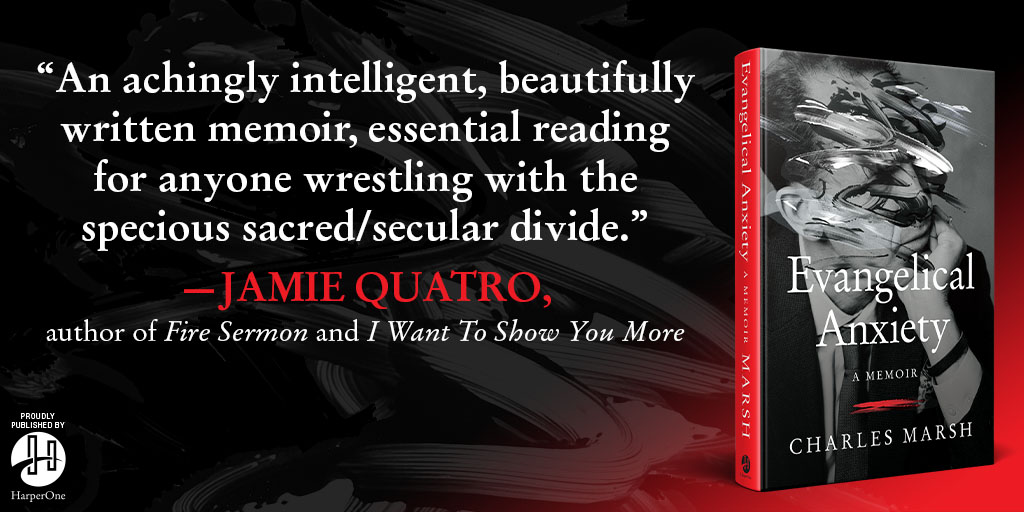 ---
September 10, 2023
"Marsh, a preacher's son and professor of religious studies at UVA, explores the personal cost of an evangelical upbringing and a medical diagnosis of generalized anxiety disorder. He's a book nerd like us, so lovers of literature will especially appreciate this memoir."
---
July 31, 2023
"But this is not a memoir that commends therapy rather than Christianity, but one that shows that evangelicalism's old tools—shame, denial, demonic possession—don't always work. It is Luther's bold grace that is needed, a deeper assurance that the Center will hold, that our wounds and fears, our heavy hopes and unreliable bodies, may lead us off but also back again."
---
July 20, 2023
"A gloriously written memoir by Charles Marsh… He thoughtfully shares his journey toward greater psychological and spiritual health. The book is also steeped in his work as a scholar of religious studies and a biographer of Bonhoeffer. Another page-turning read."
---
June 22, 2023
"Marsh describes a 'siege mentality' within the church of his childhood: minority groups on one side, government on the other. He worked in John Updike country and borrows something of Updike's lush style."
---
April 17, 2023
"And as someone who has walked the difficult road of unraveling the unhealthy messages of a narrow-minded faith, Marsh sees one other reason for evangelical anxiety: 'It's time for us to really roll up our sleeves and try to make sense of what emotional and psychological purposes are being fulfilled in the way these men and women think about God and how they use their faith as a weapon.'"
---
March 3, 2023
"With exquisite prose, Marsh takes us into the depths of his illness. Never self-pitying, he describes panic attacks, depression, and a jarring mental breakdown… Marsh takes honesty and self-revelation to a degree designed to make readers uncomfortable."
---
February 24, 2023
"Evangelical Anxiety opens up important questions about how faith relates to mental health and illness. It is a thoughtful, readable exercise in what Charles Marsh has elsewhere called "lived theology". A memoir full of books, it chronicles a passionate literary journey as well as a typically messy existential search for a life that is fuller, truer and at least partially healed."
---
December 28, 2022
"My non-fiction book of the year is Evangelical Anxiety by Charles Marsh… the book caught me completely off-guard."
---
November 29, 2022
"After trying for so long to calm the mental storms out of my own depleted resources, coming to the knowledge that I could accept the therapeutic work and the medication as God's gift, was the saving grace I needed.
The realization of such commonality awakens us to a need for others that is born not of weakness but of love."
---
October 13, 2022
In this riveting spiritual memoir, our guest Charles Marsh tells the story of his struggle to find peace and the dramatic, inspiring transformation that redefined his life and his faith.
---
October 6, 2022
"Charles Marsh… offers in this memoir a searingly honest account of his mental health struggles and his return to a fuller life through thera­py and psychoanalysis."
---
My Utmost Anxiety for His Highest + Charles Marsh, Saved by the City Podcast
October 5, 2022
Katelyn and Roxy are joined by author Charles Marsh as they reflect on the amped up, high stakes nature of an evangelical upbringing.
---
August 13, 2022
"Hitting puberty in the heart of the Bible Belt is a weird journey, as Charles Marsh explains in this excerpt from his memoir Evangelical Anxiety. His solution was even weirder."
---
July 28, 2022
"There is more to this memoir than Marsh's experience on the analyst's couch and that adds fuller depth to Marsh's fascinating life. Though not touched upon as much, Marsh chronicles his own pilgrimage out of rigid, southern-style evangelicalism and into the Episcopalian tradition… He also writes tenderly about his desire to be a good father to his children and a better spouse."
---
July 26, 2022
"Marsh's memoir is kind of like the cocktail you'd get from combining the two — one part religion, one part mental health, strained through introspection and garnished with vulnerability. It's surprising and courageous, with notes of redemption."
---
July 24, 2022
"Christianity is transparency or it's nothing at all. Charles opts for transparency. It's a risky move, but it's also a profound gift. Given the threats we face on account of Christian supremacists accorded inordinate public trust, Evangelical Anxiety is also a form of public service."
---
July 13, 2022
"It's an illuminating journey, often sad and disturbing, sometimes funny and endearing, and ultimately uplifting. In our skeptical world where psychiatrists are so are often undone, it is refreshing to read a memoir where the psychiatrist is the good guy and the patient emerges healed and whole."
---
June 27, 2022
"Marsh's memoir, partly set in Charlottesville and at UVA, follows the journey of a religious young man trying to reconcile his faith with the changes of growing up along with the growing reality that he suffers from an anxiety disorder that threatens to derail his life."
---
June 21, 2022
"Evangelical memoirs and autobiographies tend to present a neat, problem-solved perspective on their lives. Charles Marsh's memoir does not have a nice bow on it. He has grappled with debilitating anxiety and depression and other mental health issues, and the language and revelations will offend or scandalize many."
---
June 18, 2022
"Marsh's book is an erudite glimpse into the psychology of white evangelicalism and how the current proliferation of white Christian nationalism could spring from the religious imperatives Marsh details."
---
June 14, 2022
"A poignant and vital story of deep soul work, Evangelical Anxiety helps us look beyond the stigma that leaves too many people in pain and offers people of faith a way forward to find the help they need while remaining true to their beliefs."
---
BookNotes, Hearts & Minds Bookstore
June 9, 2022
"It is rare when I make time for an immediate repeat but this book was so engaging – that is, it was very well-written in a way that was artful and richly-crafted but was equally inviting and enjoyable. Not every book that is written with literary verve and gorgeous prose is, frankly, still that interesting. This, though, a memoir of a journey in and coming out of a southern sort of fundamentalism, and finding a way through the hurts and hang-ups of that milieu, is a page-turner."
---
June 1, 2022
"This book is a revelatory account of Marsh's journey. People of any faith struggling with mental illness can find a path toward hope in this book. And that hope may, as it did for Marsh, lead to some level of healing."
---
Kate Bellody, Library Journal (starred review)
May 6, 2022
"Marsh (God's Long Summer: Stories of Faith and Civil Rights) reconciles his struggles with anxiety and with his Evangelical Christian faith in this candid, captivating memoir. Marsh, a professor of religious studies at the University of Virginia, reflects on living with anxiety and the tension between treating his mental health and looking to his spiritual community and beliefs for support. He writes intimately of his decision to seek treatment with psychoanalysis and explores the diverging belief systems he grappled with by looking to key moments, including his childhood as the son of a Southern preacher, his marriage, and theology school. Marsh's book will appeal broadly to fans of literary nonfiction and particularly those looking for a relatable memoir on spirituality or mental health. His visceral depictions of anxiety and thoughtful reflections on both his faith and his upbringing will resonate with readers. Readers interested in memoirs that explore spirituality and mental health may also enjoy Bipolar Faith: A Black Woman's Journey with Depression and Faith by Monica A. Coleman. VERDICT A bold, thought-provoking memoir on the intersections of faith and mental health."
---
"Marsh probes the realms of piety and mental health with engrossing prose and naked honesty, showing us how the sacred can be found in literature and on the therapist's couch. Anyone curious about a better way to navigate mental health and belief will find hope and inspiration in this book."
---
"A faith memoir that proves religion is not the business of pious devotion but unbridled desire. Marsh stalks this unruly passion to the knife's edge of mental exhaustion and breakdown. A harrowing book but, weirdly and wonderfully, also a hoot. I kept laughing aloud—and then sighing. A remarkable achievement."
---
"This is a bold, beautiful memoir, at once transgressive and faithful. Marsh embodies a theology with the courage to tackle the taboo, including depression and desire, in prose that is evocative and seductive. In the end, we learn that the most astounding grace is found in the God we can tell our secrets."
---
Dinah Miller MD, assistant professor of Psychiatry and Behavioral Sciences at Johns Hopkins School of Medicine and author of Shrink Rap: Psychiatrists Explain Their Work
"In this beautifully choreographed memoir, Charles Marsh's lyrical prose dances as he recounts a tormenting anxiety disorder. Eventually he finds solace through years of a masterfully-described psychoanalysis (later supplemented with a bit of Prozac). Evangelical Anxiety is a courageous memoir where Christianity and psychoanalysis –worlds that rarely converge—interweave."
---
"Marsh challenges the church to reckon with the mental health of the faithful, to be more open and accepting of how many of us struggle. Through gripping and honest storytelling, Marsh reveals the ways in which therapy can be a form of prayer."
---
"Examines Christianity's fraught relationship to the erotic, and how Marsh suffered under religion's often impossible precepts. From the kudzu-strangled landscapes of his Deep South childhood to the spiritual salve of literary novels to the theological integrity of psychoanalysis, Evangelical Anxiety is as transgressive as it is vibrant."
---
"This reads like balm. Marsh seamlessly twines profound theological insights with his own story of mental breakdown and psychotherapy, which he comes to see as an incarnational practice: word-made-flesh as a trajectory to wholeness. An achingly intelligent, beautifully written memoir, essential reading for anyone wrestling with the specious sacred/secular divide."
---
Publishers Weekly
"Dark and sometimes bawdy humor enlivens the proceedings, making for an endearing and rewardingly unusual account of mental illness and faith. This candid and funny volume hits the mark."
---