Every Friday we ask for donations in the city center of a nearby affluent town.  We set up two tables on the sidewalk on which we place bread, jam, assorted packaged food, various vegetables and plants from our garden.  Usually three or four people from the farm go for the day, standing near the table and in other spots on the sidewalk to ask passersby for donations.  Rather than pricing the items on our table, we ask that people give what they would like to support our cause, hoping that the mostly well-to-do young families, retirees, and businessmen will have a lot to give.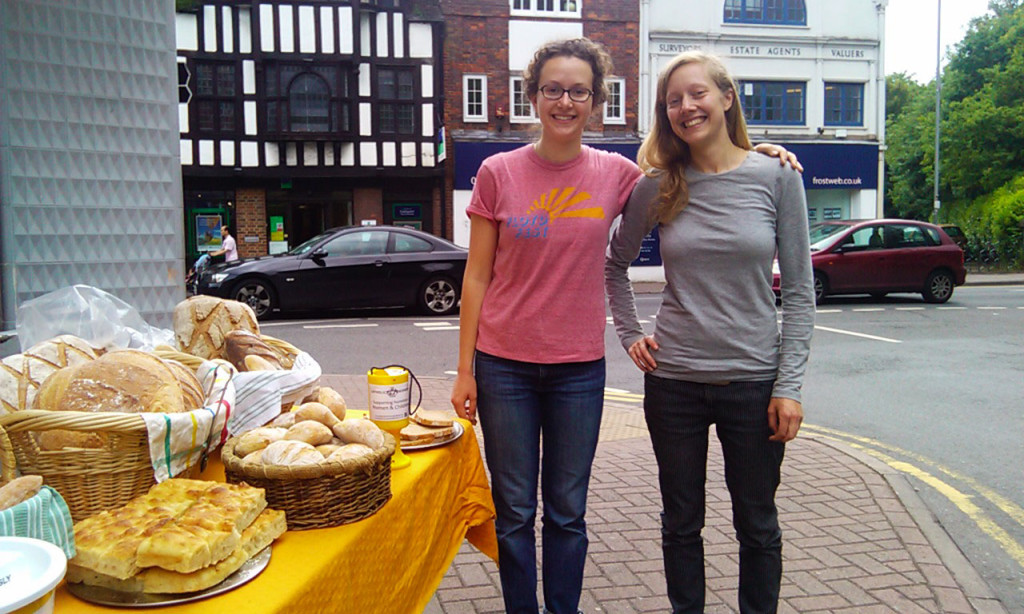 After we park our blue Fiat van, complete with a "Jesus Loves WikiLeaks" bumper sticker, and begin to set up tables and hang signs that read, "Help Support Our Homeless Women," a sense of unease comes over me as we transition from daily work at the farm to placing ourselves in the center of Chorleyshire* to tell the general public about our work and to ask for their monetary support.  Thankfully the rich citizens of Chorleyshire are generally pleasant people to talk to.  Our tables look quite neat and colorful, with an orange tablecloth, bread spilling out of baskets, jam and crisps neatly arranged, and bright green and deep magenta rhubarb.  I always expect that walkers will flock to our table in droves, however people rarely stop unless asked to do so.
Beginning to stop passersby is at first awkward, however after a while I've found that it becomes easier the more consistently I try to talk to talk to each person who passes.  After having gone to Chorleyshire to sell for a couple of weeks now, I feel I have a sense as to what will cause people to at least consider stopping by our tables, which is to draw their attention to our fresh bread rather than to our work with homeless women and children.  The signs we set up don't usually attract people, and neither does, "Hi, would you like to support our work with homeless women?"  A big smile, and "Hi there!  Need any bread today?" however, works wonders.
The typical reaction people give after I've asked them if they'd consider buying some bread is surprising; whether or not a person is interested in the bread, they often give a genuine smile back.  I hope this positive response indicates that they don't find us to be too much of a nuisance, and would consider stopping by on a Friday in the future.  Only one time were we uncomfortably confronted by a woman who was upset because we had called out to her multiple times on the street.  She had passed by us three different times and we had called out to her each time, not noticing that we had already done so before.  She didn't think we should be such a bother to walkers.  In the biography about Dorothy Day written by Robert Coles, Day recalls a time when, as she was walking up and down a street with signs for a protest, a woman remarked, "Will you people please stop exhibiting yourselves" (119).
I do hope that people in Chorelyshire don't find us disrespectful, but the Catholic Worker as envisioned by Dorothy Day is to have a presence in public life; as she often remarked, we are trying to build a new society in the shell of the old.  The Catholic Worker not is a group of religious desert fathers, removed from the world and devoted to a life of prayer.  The desire and calling to engage, as felt by Dorothy Day and Peter Maurin, stems from both the example of Jesus and from the backgrounds in activism and journalism of Dorothy and others who began the first Catholic Worker.  They saw themselves as "Christians living in the midst of a busy urban world, with people everywhere near us.  No desert here, other than the vast desert of lost souls you can see on some streets" (Coles, 119,120).
The Catholic Worker Farm is somewhat isolated from the surrounding town, unlike the first house established in New York City.  We're located in a neighborhood 45 minutes outside London, rather than in the center of a major metropolitan area.  Furthermore, our location on a working farm sets us back from the road in a peaceful, though isolated environment.  Going to Chorleyshire and engaging with people in a local area is one way we can emerge from our isolation.
Dorothy, Peter, and others who were a part of the first Catholic Worker in New York City were often on street corners protesting, picketing, and selling their publication weekly.  They sold the newspaper for a penny a copy, standing on street corners and shouting, "Read The Catholic Worker, daily!" next to their Communist counterparts who were similarly trying to attract readers yelling, "Read the Daily Worker!" (118, Coles).  Selling weekly newspapers is a consistent way to have a public presence and creates an opportunity to discuss the articles and topics included in the publication with the general public.
At the Catholic Worker Farm we do consistently go into Chorleyshire, but unfortunately we do not speak with many people about our work beyond surface-level explanations.  When people do ask more about what they are donating to, it is difficult to resist the urge to instinctively keep my explanation vague so as to conform to whatever people think they are supporting, knowing that one could find many things about The Catholic Worker problematic, from it's roots in Catholic belief to the fact that our assistance is overwhelmingly given to foreign women rather than British citizens.  On the other hand, we do offer people our bi-yearly newsletter when they stop by the table or give donations, which does state concretely our intentions and beliefs.
"Posing," not clearly explaining our work which some could find controversial, or hoping to hide the difficulties or troubles that we often face, is tiring, not entirely honest, and contrary to our belief that as a result of our faith we are trying to spread a message and advocate for the marginalized.  Dorothy Day states, "I know it won't do, to give the impression we sail along here, on a sea benevolence (118)."  When people hear the surface level explanation about the accommodation we provide for eighteen homeless women and children and our life together in the big farm house selling bread and making jam, often we both give the impression and receive the response that we are "such angels, those Catholic Workers!" as put by Day (Coles, 114).  The focus is then put on the great, holy work that we are doing, which can result in feelings of pride, self-importance, and self-righteousness, rather than on understanding our intentions well enough to communicate them clearly and honestly.
A nun who came to volunteer at the Catholic Worker in NYC told Dorothy something she would never forget, that "this is dangerous work… that we run the risk of thinking we're God's gift to humanity, those of us who struggle in our soup kitchens and hospitality houses to be loyal to Him.  It is a message I hope none of us forgets…" (Coles, 116).  The pride that can come with living a life of service certainly is paradoxical, since choosing to work with the poor is often to decide to move down the social ladder and to reject the temptation to focus on person success.  Both arrogance and pride are temptations with which Dorothy Day was greatly concerned though, and thought they were "[lurking] around every corner" (Coles, 122).
It seems necessary to strive for patience and clarity to explain the beliefs of the Catholic Worker, keeping in mind the humble work in which we have chosen to engage and trying to communicate this honestly rather than in a superficial way.  Also we must recognize that not everyone will want to support our work or feel as though they should consider living in a similar way.  Robert Coles writes that neither Dorothy Day nor Peter Maurin would have liked the term Catholic Worker Movement, as "they saw themselves as struggling, penitent Christians, anxious to connect the religious pieties so many of us collect to the concrete moral challenges of everyday life… they could not get out of their minds, day after day, the example Jesus set, not only encouraging, admonishing, exhorting, explaining, summoning, but time and again, doing" (Loaves and Fishes, xi).
Going into Chorleyshire and engaging with locals about the work that we do is an opportunity to ask ourselves if we understand our intentions and if we can communicate them to the public.  I wrote about our intentionality in my first post A Theology for Daily Work, and how belief in intrinsic dignity is at the core of our work.  Hopefully, this is something that I can learn how to better explain to people, especially those who we encounter, however briefly, in Chorleyshire.  This could mean speaking slowly, focusing less on the lovely bread we have and more on explaining our intentions, and asking people who return week after week about their impressions of our newsletter.  Peter Maurin said, "We can't expect to run to meet the world with our message and not fall flat on our faces.  We've got to take the risk.  We've got to get up after we fall and keep moving"  (Coles, 120).  As stated on the Catholic Worker website, "We believe that success, as the world determines it, is not the criterion by which a movement should be judged… The most important thing is that we adhere to these values which transcend time and for which we will be asked a personal accounting, not as to whether they succeeded… but as to whether we remained true to them even though the whole world go otherwise."
* Name has been changed