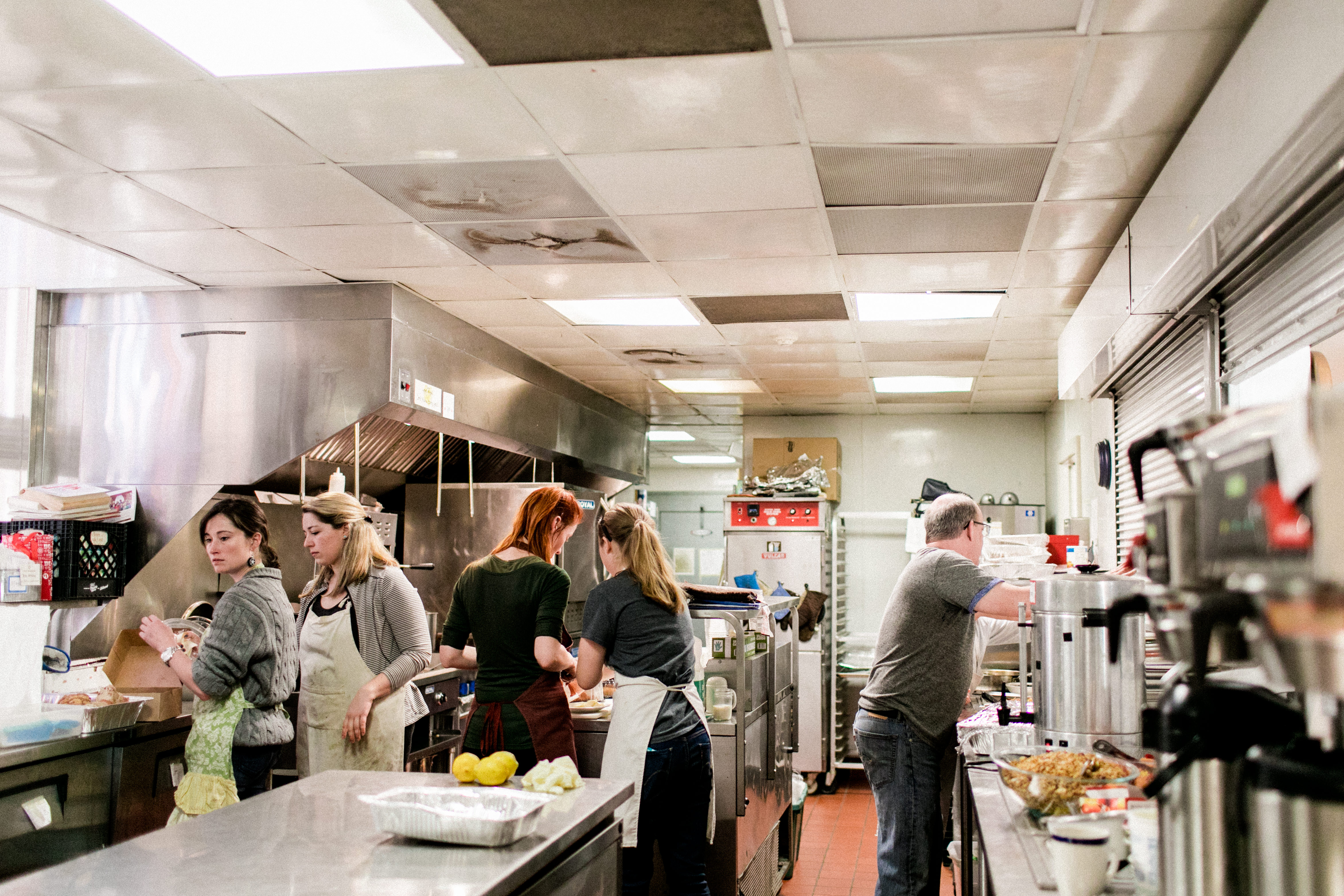 For the past two weeks, I've been busy settling into a routine at The Haven, a multi-service day shelter for people experiencing homelessness and poverty in Charlottesville. Over the course of the summer, I'll be preparing lots of food, helping manage the structured chaos that is the welcome desk every morning, answering a financial crisis helpline, and helping create a writing program for our guests to enjoy.
This past semester I volunteered in the kitchen once a week, but I wasn't able to truly appreciate this special nook of the Haven until I began spending time there every day through my internship. Most volunteers work the same shift every single week, and this routine results in strong and distinct camaraderie and community between the different volunteer shifts. It's a largely accepted theological truth that God created kitchens in order to facilitate fast friendships and meaningful, joyful conversations, and the Haven's kitchen is a prime example. Within each time slot of volunteering forms a small family: a network of individuals devoted to the same cause of loving our neighbors. In these early weeks of my internship, I'm intruding into communities as I cook alongside these families of volunteers. The volunteers ask for updates on children, vacations, and your health. They care for one another as they care for our guests.
In their attempts to explain the general failings of the Christian social gospel in America in the past century, theologians blame the way our consumerist, capitalistic society values individualism and self-sufficiency in ways that complicate the creation of collective community necessary to imitate the Kingdom of God on earth. Moments of true community, selflessness, and solidarity seem to be hard to find. One of the guests at the Haven is a kind, older gentleman who is originally from the hills of Tennessee—I'll call him Richard. He loves to garden, used to be an avid tennis player, and frequently demonstrates genuine care for others. Richard lamented to me the other day that "no one works in teams anymore. It used to be, people would care for one another, we could wait outside of The Haven and people would drive by, pick us up and take us to work, give us rides. But people don't care like that anymore. No one wants to be on your team."
That team mentality, that sense of community even between strangers, a willingness to take care of those who are struggling… where did it go? And, perhaps more importantly, where can we find it again?
Walter Rauschenbusch wrote extensively on the idea of a living, breathing idea of the 'Kingdom of God.' This kingdom is often conceptualized as a distant place that Christians will reach in the afterlife if they live a life worthy of God—that is, if their individual piety and purity stand up to the test when they show up at the pearly gates. But the social gospel movement, propelled early on by Rauschenbusch, emancipates the Kingdom from the realm of the ethereal and contends that Jesus's ideals should mobilize humanity towards justice, peace, unity, and liberation: not in the future, but right now. Social Christianity attempts to "embrace the tridimensional social vision of liberty, equality, and community … but in a country where people only understand individualism, social Christianity is constantly pressed to defend the values of equality and community" (372). Rauschenbusch's hopes for the power of the social gospel to transform people's lives don't seem to have trickled down to my friend Richard at The Haven, wistfully remembering a time when people were kinder and more generous and more willing to be in your corner.
The language of the social gospel is active, immediate, urgent and compelling. Theologian and historian Gary Dorien explains in his book Soul in Society, "If the church is not merely the body of Christians that awaits the kingdom, but the partial manifestation of the kingdom as the body of the resurrected Christ, it cannot regard the way of Christ as an ethic for an age yet to come" (371). By this, he suggests that the Church is more than just a group of people. This statement deifies community—and not some distant community, but one that is immanent and tangible in this life, in this very day. Which brings me back to the rag-tag army of volunteers that faithfully march in and out of The Haven each week. In each plate served, our guests can taste traces of the Kingdom: an authentic, not-from-concentrate glimpse of the realities of Christ and the coming Kingdom. "In the biblical faith recovered by social Christianity, the reign of God is an immanent/eschatological reality that engenders community, peace, and justice" (Dorien 19).
Social gospelers today cling to the hope that through transforming the Church into a restorative community, we can perhaps attain once more that team-mentality that Richard remembers. Personally, when I think of examples of the "kind of progressive religion that plays a morally regenerative role in American culture" (Dorien 372), the kitchen of the Haven seems like a pretty good starting point. Perhaps each breakfast can feed the growing and present Kingdom of God alongside our hungry guests.
For updates about the PLT Summer Internship, click here. We also post updates online using #PLTinterns. To get these updates please like us on Facebook and follow us on Twitter at @LivedTheology. To sign up for the Lived Theology monthly newsletter, click here.