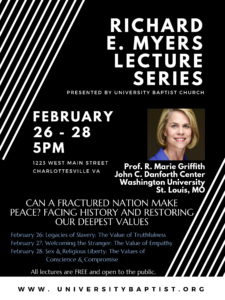 On February 26 – 28, Professor Marie Griffith will be speaking as part of the Richard E. Myers Lecture Series at University Baptist Church. The lectures will be at 5 PM each day. Professor Griffith will be giving a series of lectures entitled "Can a Fractured Nation Make Peace? Facing History and Restoring Our Deepest Values." The title of the three lectures included in the series are "Legacies of Slavery: The Value of Truthfulness," "Welcoming the Stranger: The Value of Empathy," and "Sex and Religious Liberty: The Values of Conscience and Compromise."
The abstract for this lecture series is included below:
"Countless political and social conflicts in America during recent decades have hinged on divergent ways of telling the nation's history and describing the values we share in common. Particular disparities appear between different ways of talking about the legacies of slavery and racism, the dehumanizing treatment of native Americans and immigrants, and the bitter struggles over sexuality, women's rights, and religious liberty. In this era of extreme polarization and deep fracturing within American Christianity as well as U.S. politics, can we cultivate a sense of shared history and a shared future that is truthful about the nation's past and united in honoring the values that will guide its future? These lectures take on these difficult subjects with an eye toward restoring such values as truthfulness, empathy, conscience, and compromise, so as to foster a bearable peace."
Professor Griffith is the Director and John C. Danforth Distinguished Professor in the Humanities at the John C. Danforth Center on Religion and Politics at Washington University in St. Louis. She published Moral Combat: How Sex Divided American Christians and Fractured American Politics in 2017, which connected modern political issues to centuries old debates among American Christians.
Fellow travelers are scholars, activists, and practitioners that embody the ideals and commitments of the Project on Lived Theology. We admire their work and are grateful to be walking alongside them in the development and dissemination of Lived Theology.
For more news from PLT fellow travelers, click here. To engage in the conversation on Facebook and Twitter, @LivedTheology, please use #PLTfellowTravelers. For more recommended resources from our fellow travelers, click here, #PLTfellowtravelers. To sign up for the Lived Theology monthly newsletter, click here.