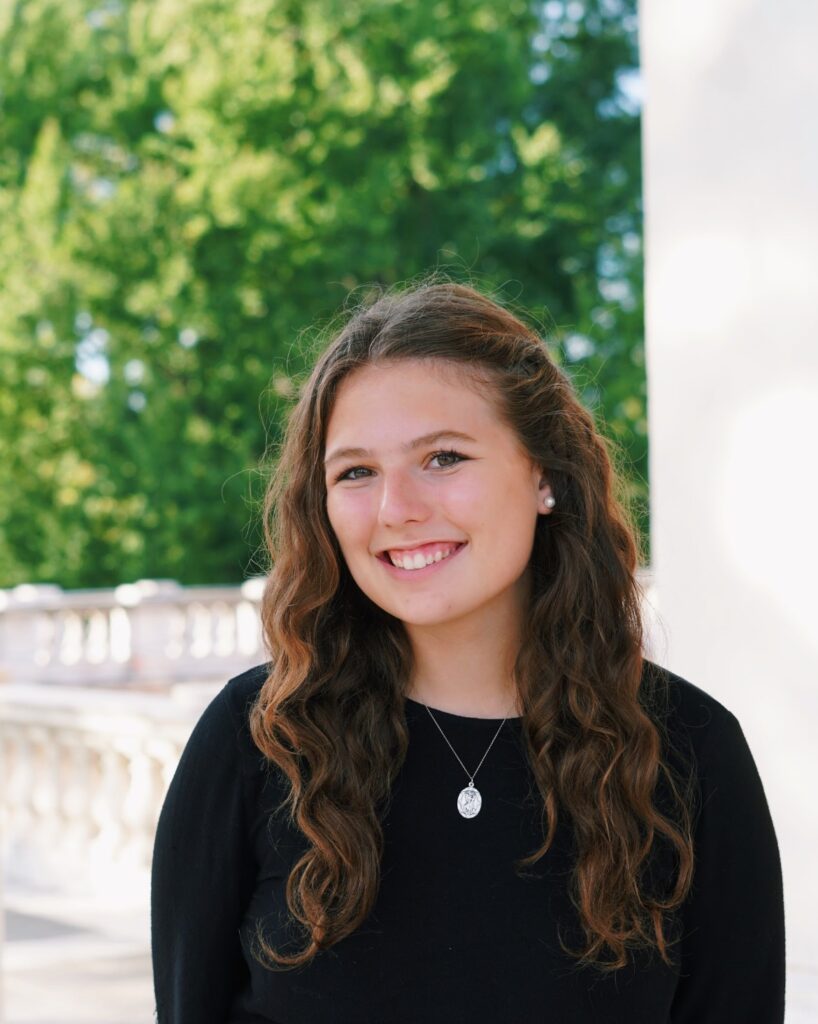 The Project on Lived Theology (PLT) has selected Emily Miller to be a 2022 Undergraduate Summer Research Fellow in Lived Theology. Emily, who is a rising third-year undergraduate at UVA, is double-majoring in religious studies and statistics.
As part of her fellowship, Emily will receive a $3,000 stipend and work directly with a UVA faculty mentor, who will act as a theological-academic mentor and offer guidance on a research project.
Emily's project will explore the history of two Charlottesville churches: First Baptist Church on Park Street and First Baptist Church on Main Street. The two churches used to exist as a single church, Charlottesville Baptist Church, but split during the Civil War when Black members decided they wanted to form their own church. Currently, First Baptist on Main Street remains primarily Black, while First Baptist on Park Street remains primarily white. Since so little information is readily available about the split, Emily will visit the Albemarle Charlottesville Historical Society and UVA Special Collections, as well as each church's archive, to find what historical documents exist.
From there, Emily hopes to form a fuller, more detailed narrative from a variety of sources about the history of these two churches than what is currently accessible to the public. This project will also contribute to a more comprehensive theological history of Charlottesville in general. Emily is also interested in how the history of the separation has impacted each church today. She hopes to interview members and clergy of both congregations, as well as to attend services at both churches, in order to form a sociological narrative of the churches as well as a historical one.
"Emily's got a terrific project, and she's already hit the archives and turned up some fascinating documents," said PLT research fellow Guy Aiken, who is serving as Emily's faculty mentor. "It seems the full story of the big Baptist split in Charlottesville during the Civil War and Reconstruction and its reverberations down to today has never been told—until Emily. It's exciting."
"I am passionate about both theology and the rich civil rights history that exist in Charlottesville, and so as a part of this fellowship, I'm excited to bring these aspects together under the guidance of incredible professors, Guy Aiken and [PLT director] Charles Marsh," said Emily. "The story of the First Baptist Church is deeply ingrained into Charlottesville and has a profound impact on the state of the Baptist church writ-large in Central Virginia, and I am so honored to have the opportunity to bring the many moving pieces to light."
Currently a teaching fellow in UVA's Department of Religious Studies, Emily also conducts research for The Global Inquirer (a podcast produced by UVA undergraduates) and tutors elementary school students in math. She is a lifeguard and championship dancer, with experience in fitness training. Emily hopes to eventually earn a PhD in religious studies and become an academic researcher.
The Project on Lived Theology at the University of Virginia is a research initiative, whose mission is to study the social consequences of theological ideas for the sake of a more just and compassionate world.