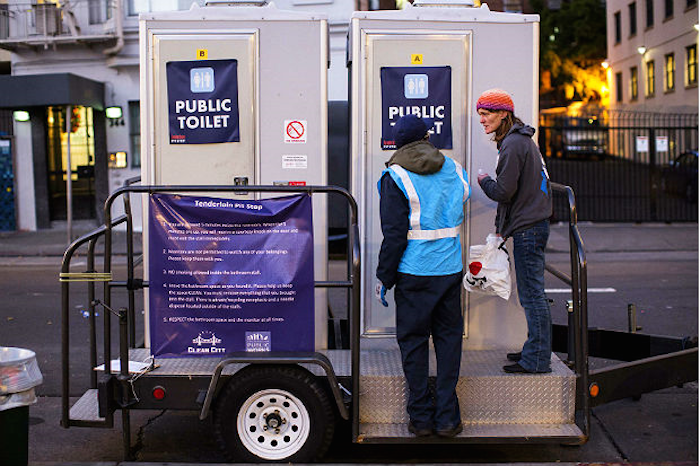 Bathrooms are fascinating. They look different all over the world. In fact, for me they are a good indicator of how far away from home I am (i.e. Bidet or no bidet? Running water or bucket? Do I have to dig my own hole or no?). But for almost everyone, I've discovered, they are things we don't think about until they're gone. They are easily taken for granted. I realized that the longest I spend without direct access to a nice, clean(ish), private restroom on a typical day is the 20 minutes I spend in the car. This is not so for many people living in the Tenderloin neighborhood of San Francisco.
The TL, as many locals fondly call it, is infamous for being a place where you must watch your step to avoid stepping on either needles or human waste. The Daily Caller called the entire neighborhood one big "public toilet," describing the population using it as "drug dealers, addicts, prostitutes, and mentally unstable street people" (citing the San Francisco Chronicle). This portrayal erases the presence of immigrant families, the elderly, and disabled people (and some yuppies) who also form large percentages of the population. While these reports are insensitive and ignorant, showing no sympathy for the problem of public urination as it faces homeless people or providing any productive criticisms, they reflect a commonplace attitude.
Fecal matter in the streets is a source of frequent joking among YWAM staff. Once, when we were out in Santana Row (an upscale shopping area in San Jose), someone remarked that it was so nice to be able to walk down the street without worrying about stepping in crap. We all laughed along and nodded our heads. YWAM staff love the neighborhood, and they show their commitment through their service. However, I realized that for me, laughing about how "ratchet" the TL is only further solidifies the negative image of the community that we are trying to fight against.
I must admit, there have been times when I have seen the public bathroom a block away from the YWAM base and callously thought, "Gee, why can't the people who pee in front of our building ever seem to make it over here?" Then, one day a woman ran up to the building in a state of emergency. After being let in and allowed the use the bathroom, she came out and apologized, saying that she had tried to use the bathroom down the street but it was locked. Public bathrooms in the TL have had a poor track record of becoming sites of prostitution, drug use, and other dangerous activities. Now, the best options for relieving oneself are the portable pit stops that come in Tuesday-Friday from 2-9 pm. These bathrooms are monitored by attendants from a city-contracted non-profit to prevent the issues that have come with public bathrooms of the past.
While these pit stops have been extremely helpful, reportedly reducing the number of complaints about human waste in the streets from 27 calls per day to 15, they aren't a foolproof solution. Human needs do not disappear outside of the 7 hours per day, 4 days a week that these two toilets drop on the block. People are still forced to urinate and defecate in the streets, in plain view, every single day. This is not merely a sanitation problem; this is an affront to human dignity.
In this city of impossible wealth, the most expensive U.S. city to live in, homeless people are often considered an eyesore. For some living in other parts of the city, having to walk by a makeshift homeless camp on their way home is a sure sign that "the neighborhood has gone to crap." Every day thousands of homeless people struggle for a limited number of one-night beds, getting in line in the middle of the afternoon only to be booted out again at 6 AM. They put their names on impossibly long waiting lists for more permanent solutions: 90-day beds, SROs, or Section 8 low-income housing. Thanks to policies requiring hotels to reserve a certain number of beds for low-income people, there are 9,990 formerly homeless people living in 208 hotels in the Tenderloin's 23 blocks. And yet, the large number of homeless people still on the streets makes the problem seem impossible to surmount.
Two days ago I averted my eyes as a homeless woman, whose name I know and whose face I see nearly every day, exposed herself to everyone on the street (mostly men) in broad daylight and urinated not 5 feet from me. She seemed nonchalant. I can only assume that this has been such a consistent reality for her that she has moved past the point of shame and embarrassment. Two days prior, I stopped in my tracks as I approached a homeless man that I was supposed to be meeting up with when I realized that he was relieving himself in the street. I tried to make myself scarce, hoping that he wouldn't be embarrassed if he didn't see me. But he did. Three days prior to that, a woman rushed into Nail Day whispering urgently that she needed feminine hygiene products. When she came out of the restroom she sheepishly asked for a discrete bag to carry the products in. Like the pubic pit stops, the YWAM base also has times in which the restrooms are available, for one person at a time, with a monitor waiting outside. Although these measures are necessary, they must be so infantilizing. I would not feel dignified if I was put in any one of these situations.
I have one last bathroom story to share. Carly*, one of the transgender women who comes to BJM's Nail Day, has been looking for a church. After visiting many Christian churches and being unsatisfied with how little they actually spoke about Jesus Christ, she settled on a Baptist church like the one she grew up in. She liked the church a lot and was beginning to feel welcome there. Then, the pastor (a man) pulled her aside and led her through the church building to show her the one-room unisex bathroom. She had been using the women's bathroom prior to that. She hasn't been back since that day.
Empathizing with Carly, a transgender pastor of a Lutheran church in San Francisco had this to say about her experience with bathrooms: "If I'm standing in front of the bathrooms I'm thinking, if I go in the women's I'll get screamed at, but if I go in the men's I'll get beat up." Carly feared that there had been complaints by women of the church who bring their children into the bathrooms with them (because of the nasty stereotype that transgender people are pedophiles). The idea that anyone would think she could possibly hurt a child disgusts her. Bathrooms, which are a place of relief for many, are a place of uncertainty and fear for trans people.
What these stories reveal to me is that we, as Christians, are really good at loving our neighbor until it is hard. Until it makes us uncomfortable. Until it's smelly. We talk about people being made in the image of God, and the inherent dignity that all human beings share as a result, and then we turn up our noses when we see them urinating in the street. We assume that they are too drunk or high or lazy or careless to make it to a proper bathroom. We isolate them and push them aside when we are forced to mingle with them in private spaces. We show them that it's more important to us that they use the correct bathroom, the one with a little figure wearing pants on the door, than it is that they are able to be in the presence of God with fellow believers.
In Life Together, his classic text on Christian community, Bonhoeffer says, "Christian brotherhood is not an ideal but a divine reality" (26). This means that Christian community is not about our notions of perfection. It's not about bringing the exact "right" group of people into perfect harmony with one another so that we feel loved and find it easy to love one another. No, "Christian community springs… from grace alone" (23). Living in community, whether with Christians, non-Christians, or both, is meant to be hard. And if it is not hard, then the community isn't inclusive enough. This is of the utmost importance because, as Bonheoffer puts it, "the exclusion of the weak and insignificant, the seemingly useless people, from a Christian community may actually mean the exclusion of Christ" (38).
We have to do better. We have to love better. And we need Christ to do it.
As a Church and as a society, when we think of places like the Tenderloin we must remember this: Just because there is shit in the streets doesn't mean the people are shit. And if we can't wrap our heads around that… well then we're all pretty shitty.