Wayward Christian Soldiers: Freeing the Gospel from Political Captivity
Posted on May 11, 2015 by PLT Staff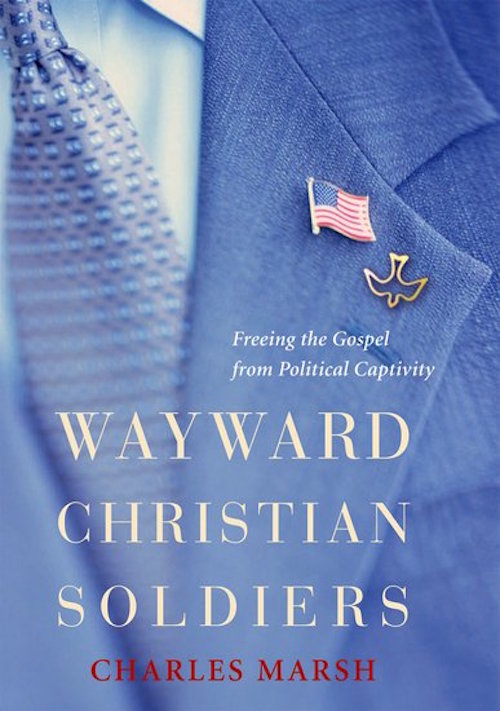 From the publisher:
In Wayward Christian Soldiers, leading evangelical theologian Charles Marsh offers a powerful indictment of the political activism of evangelical Christian leaders and churches in the United States. With emphasis on repentance and renewal, this important work advises Christians how to understand past mistakes and to avoid making them in the future.
Over the past several years, Marsh observes, American evangelicals have achieved more political power than at any time in their history. But access and influence have come at a cost to their witness in the world and the integrity of their message. The author offers a sobering contrast between the contemporary evangelical elite, which forms the core of the Republican Party, and the historic Christian tradition of respect for the mystery of God and appreciation for human fallibility. The author shows that the most prominent voices in American evangelicalism have arrogantly redefined Christianity on the basis of partisan politics rather than scripture and tradition. The role of politics in distorting the Christian message can be seen most dramatically in the invasion of Iraq, he argues: Some 87% of American evangelicals supported going to war, while every single evangelical church outside the United States opposed it. The Jesus who storms into Baghdad behind the wheel of a Humvee, Marsh points out, is not the Jesus of the Gospel. Indeed, not since the nazification of the German church under Hitler has the political misuse of Christianity led to such catastrophic global consequences.
Is there an alternative? This book proposes that the renewal of American churches requires a season of concentrated attention to faith's essential affirmations–a time of hospitality, peacemaking, and contemplative prayer. Offering an authentic Christian alternative to the narcissistic piety of popular evangelicalism, Wayward Christian Soldiers represents a unique entry into the increasingly pivotal debate over the role of faith in American politics.
Publication Information
Author: Charles Marsh
Publication Type: Book
Publisher:Oxford University Press
Date of Publication:June 2007
Purchase: Buy this publication »