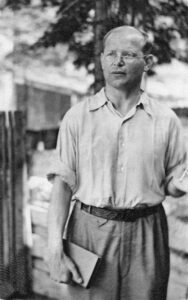 On Monday, March 30, Charles Marsh will deliver the 2015 Showers Lectures at the University of Indianapolis. The lectures will cover the life and legacy of Dietrich Bonhoeffer and are scheduled for 4:00pm and 7:00pm in the McCleary Chapel in the Schwitzer Student Center. Each lecture will be followed by a question and answer session with the audience. Admission is free and the public is invited to attend. L/P credit is available to students.
The University of Indianapolis has hosted the annual Showers Lectures in Christian Religion since 1962. Dr. J. Balmer Showers, a bishop of the Evangelical United Brethren Church, established the lecture series with an endowment gift to the University of Indianapolis. The lectures commemorate the service of Bishop Showers in Christian endeavors. His career included ministerial work in Pennsylvania, Missouri, and Ohio, education duties as a professor at Bonebrake Seminary (now United Theological Seminary), and publications work with the official E.U.B. journal, The Religious Telescope.
For more information, contact the Office of Ecumenical & Interfaith Programs at (317) 788-2106.
For directions to the Schwitzer Student Center, click here. To find future book events with Charles Marsh, click here.