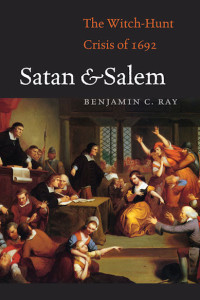 On Wednesday, April 29, 2015, the U.Va. Department of Religious Studies and the Virginia Center for the Study of Religion will host a book launch for Satan and Salem: The Witch-Hunt Crisis of 1692 by Benjamin C. Ray. The event will begin at 4:30 p.m. in the Religious Studies Faculty Lounge in Gibson 442. Erik Midelfort, Julian Bishko Emeritus Professor of History, will comment on the book. Light refreshments will be served and the public is invited to attend.
From the publisher's website:
The result of a perfect storm of factors that culminated in a great moral catastrophe, the Salem witch trials of 1692 took a breathtaking toll on the young English colony of Massachusetts. Over 150 people were imprisoned, and nineteen men and women, including a minister, were executed by hanging. The colonial government, which was responsible for initiating the trials, eventually repudiated the entire affair as a great "delusion of the Devil."

In Satan and Salem, Benjamin Ray looks beyond single-factor interpretations to offer a far more nuanced view of why the Salem witch-hunt spiraled out of control. Rather than assigning blame to a single perpetrator, Ray assembles portraits of several major characters, each of whom had complex motives for accusing his or her neighbors. In this way, he reveals how religious, social, political, and legal factors all played a role in the drama. Ray's historical database of court records, documents, and maps yields a unique analysis of the geographic spread of accusations and trials, ultimately showing how the witch-hunt resulted in the execution of so many people—far more than any comparable episode on this side of the Atlantic.

Benjamin C. Ray is Professor of Religious Studies at the University of Virginia. He is the Director of the award-winning Salem Witch Trials Documentary Archive and an associate editor of Records of the Salem Witch-Hunt.
To purchase the book from the University of Virginia Press website, click here.