Spring Institute for Lived Theology 2016/2017 Author Series
The SILT 16/17: Can I Get a Witness? author series introduces the SILT participant authors and the historical figures they will be illuminating in their narratives. This week's featured writers are Carlene Bauer, researching Dorothy Day, and Ralph Eubanks, whose figure is Mahalia Jackson.
Carlene Bauer Ι Figure: Dorothy Day (1897-1980)
---
"The greatest challenge of the day is: how to bring about a revolution of the heart, a revolution which has to start with each one of us?" -Day
Born at the turn of the century in 1897, Day was a radical during her time, translating her deeply-held spiritual beliefs into prophetic witness to champion social issues. In 1933, she co-founded The Catholic Worker which spawned the Catholic Worker Movement, an organization of houses of hospitality and farming communes that has been replicated throughout the United States and other countries. Day's legacy continues, and many people have proposed that she be named a saint for her social activism and commitment to her faith.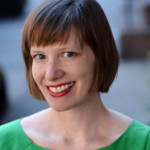 Carlene Bauer is a writer whose publications include Not That Kind of Girl (2009) and Frances and Bernard (2014). Her work has been published in The Village Voice, Salon, Elle, and The New York Times Magazine. Bauer currently works in and around New York publishing.

Ralph eubanks Ι FIGURE: mahalia jackson (1911-1972)
---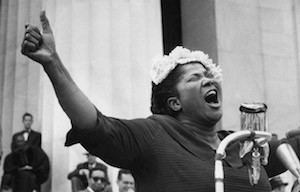 "Put your mind on the gospel. And remember – there's one God for all."
-Jackson
Mahalia Jackson is one of the most revered gospel figures in U.S. history. Her powerful voice helped lead the civil rights movement. Born in 1911 in New Orleans, she achieved international recognition after her music career took off in the late 1940s and she became involved in the efforts of civil rights. Jackson sang at the 1963 March on Washington at the request of Martin Luther King Jr. and remained committed to activism until her death in 1972. Jackson is remembered and loved for her impassioned voice, her deep commitment to spirituality, and her lasting inspiration to listeners of all faiths.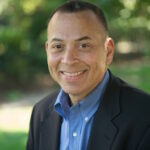 Ralph Eubanks is the Eudora Welty Professor of Southern Studies at Millsaps College. Eubanks has contributed articles to the Washington Post Outlook and Style sections, the Chicago Tribune, Preservation, and National Public Radio. His publications include The House at the End of the Road: The Story of Three Generations of an Interracial Family in the American South (2009) and Ever Is a Long Time: A Journey Into Mississippi's Dark Past (2003), which Washington Postbook critic Jonathan Yardley named as one of the best nonfiction books of 2003. Eubanks is a recipient of a 2007 Guggenheim Fellowship and has been a fellow at the New America Foundation.

---
SILT 16/17: Can I Get a Witness? is a two-part SILT that will celebrate scholars, activists, laypeople, and religious leaders whose lived theologies produced and inspired social justice in the United States and will produce a single volume entitled Can I Get a Witness? Stories of Radical Christians in the U.S., 1900-2014. The first meeting will be held at the University of Virginia in June 2016; the second meeting will follow at Loyola University Chicago's Water Tower Campus in June 2017.
Next week's Can I Get A Witness? author series post will feature Peter Slade and Grace Yia-Hei Kao, who will be presenting on Howard Kester and Yuri Kochiyama, respectively. To view all news posts in this author series, please click here.
For more details about the Spring Institute for Lived Theology 2016/2017: Can I Get A Witness? initiative, click here. We also post updates online using #SILT. To get these and other news updates, please like us on Facebook and follow us on Twitter @LivedTheology. To sign up for the Lived Theology monthly newsletter, click here.