Spring Institute for Lived Theology 2016/2017 Author Series
The SILT 16/17: Can I Get a Witness? author series introduces the SILT participant authors and the historical figures they will be illuminating in their narratives. This week's featured writer is Therese Lysaught, whose figure is Sr. Mary Stella Simpson.
Therese Lysaught Ι FIGURE: Sr. Mary Stella Simpson (1910-2004)
---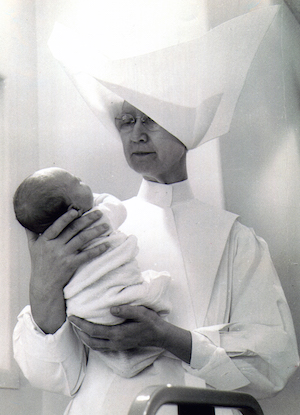 "I learned more about pediatrics there [Mound Bayou] than I ever learned in school, but most of all I learned about faith. I never had to spread the Gospel to the people there – in spite of all their hardships, their faith in God was unshakeable." –Simpson
Under the guidance of her Catholic beliefs, Sister Mary Stella Simpson revolutionized the field of maternal-infant health and promoted family-centered care. She entered the Daughters of Charity in 1936 as a labor and delivery nurse and later received training as a midwife. Concerned for family welfare, Sr. Simpson became the first health care provider in the nation to encourage fathers to be present at the birth of their child and also started child-care classes for new mothers. In 1967, at the request of the American Nurses Association, Sr. Simpson moved to Mound Bayou, Mississippi to set up a government-funded maternal-infant health program. Although the infant mortality rate was 59% when she arrived, she never lost a baby or a mother during her six years there. Sr. Simpson remained a beacon of faithfulness until her death in 2004.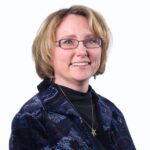 Therese Lysaught is a professor and associate director at the Institute of Pastoral Studies at Loyola University Chicago. Lysaught specializes in Catholic moral theology and health care ethics and consults with health care systems on issues surrounding mission, theology, and ethics. Her publications include Caritas in Communion: Theological Foundations of Catholic Health Care (2014), On Moral Medicine: Theological Perspectives on Medical Ethics (2007), and Gathered for the Journey: Moral Theology in Catholic Perspective (2007), which received third place honors in 'Theology' from the Catholic Press Association. .
---
SILT 16/17: Can I Get a Witness? is a two-part SILT that will celebrate scholars, activists, laypeople, and religious leaders whose lived theologies produced and inspired social justice in the United States and will produce a single volume entitled Can I Get a Witness? Stories of Radical Christians in the U.S., 1900-2014. The first meeting will be held at the University of Virginia in June 2016; the second meeting will follow at Loyola University Chicago's Water Tower Campus in June 2017.
Next week's final Can I Get A Witness? author series post will feature Rev. Becca Stevens, Soong-Chan Rah, and Donyelle Charlotte McCray, who will be presenting on William Stringfellow, Richard Twiss, and Howard Thurman, respectively. To view all news posts in this author series, please click here.
For more details about the Spring Institute for Lived Theology 2016/2017: Can I Get A Witness? initiative, click here. We also post updates online using #SILT. To get these and other news updates, please like us on Facebook and follow us on Twitter @LivedTheology. To sign up for the Lived Theology monthly newsletter, click here.