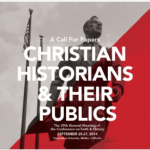 From September 25-27, 2014, the 29th Annual Biennial Meeting of the Conference on Faith and History will convene at Pepperdine University in Malibu, California with author and Project director Charles Marsh as a featured speaker.
From the event website: Contemporary historians have a somewhat complicated relationship with "the public." We long to have public audiences who will be challenged and shaped by our work, but most of us tend to produce highly specialized scholarship and write primarily for other scholars. When we do address the public, our often myth-busting strategies can come across as patronizing, contemptuous, and even politically motivated. As historians, who are our "publics"? And what responsibilities, if any, do we owe them? Are there public venues for historical understanding that we should be exploring? Does our peculiar identity as Christians have any bearing on the publics we address, what we have to say, or how we say it? Are there Christian ways of thinking about and doing public history? Is there a Christian public for our work as historians?
For more information on the event and registration details click here.