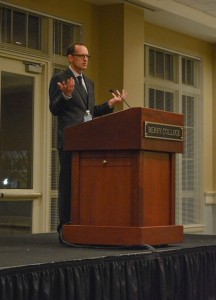 On January 26, 2015, Charles Marsh delivered his lecture, "A Christian for Our Time: Dietrich Bonhoeffer's Courageous Protest Against the Nazis," at Berry College in Mount Berry, Georgia. Marsh was one of four speakers selected to form the 2014-2015 Lumen Lecture Series. The goal of these lectures is to address various topics related to faith and life relevant to college students.
"In a time of deception, propaganda, and mass violence, Bonhoeffer… pondered whether there would arise, in response to the challenges of our time, responsible men and women, disciples of Christ, people of all religious traditions, who would have the strength to stand fast, to remain honest, and to live with civil courage in the face of deception and lies."
To listen to the recording of the lecture, click here. To find the dates and details of future book events with Charles Marsh, click here.