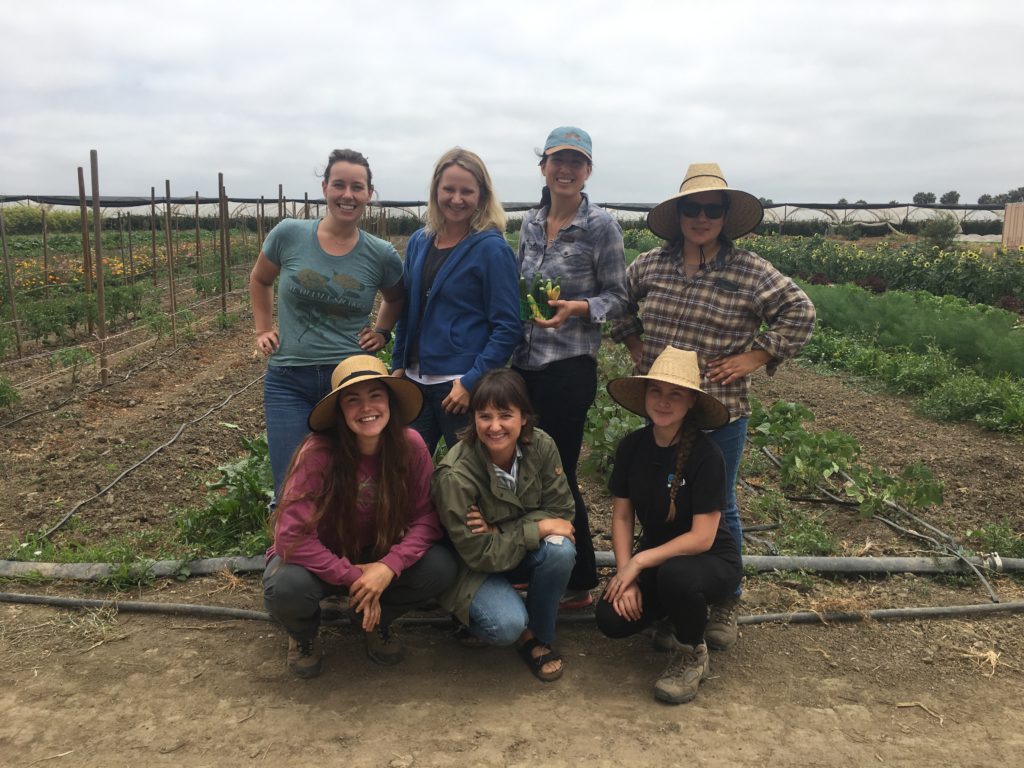 What do you think Jesus learned in his time as a worker, when he spent years laboring as a carpenter or stonemason? Do you suppose, as Dorothy Sayers might suggest, that Jesus crafted excellent tables? My pietistic knee-jerk reaction is to surmise that Jesus probably prayed during this time–like, prayed a lot. But I wonder if Jesus liked to hum or string together words in a song of his own making. I'm pleasantly bemused by the thought of Jesus daydreaming and wonder what a limitless imagination could capably conjure. Maybe Jesus' mind thrummed with a meditative ebb, as peaceful and powerful as the ocean ceaselessly breaking and birthing itself. I ponder these questions and reflect upon my own time in the farm's fields, with occupied hands and a mind that's free to wander. Still, I am beginning to earnestly believe I know more of Jesus not from speculating about what was in his head 2,000 years ago, but because of our shared work. I don't mean "work" in an abstracted sense. There are many different sorts of work, but I am speaking about the process of laboring in creation with my body, similarly to God, who found it meaningful to take on flesh, to carve wood, and cut stone.
Our spiritual formations, theological educations, and religious practices are so much more than an internal landscape consisting of thoughts and feelings, knowledge and belief. We experience everything in and through our senses and our bodies; just consider the way in which mystical experiences translate into an illumination of the brain's mysterious networks of synapses and chemicals. However, Dualism—the divorcing and dichotomizing of the spiritual and the material—has always marked the Christian tradition. Ecofeminist and liberation theologian Ivone Gebara claims, "The schools of thought which accentuated mistrust of matter underlined the spiritual transcendence of God" and the dichotomizing does not stop there.[1] Rather, "The patriarchal world always made distinctions between the good and the bad, the just and the unjust, and the masculine and the feminine; it always erected clear boundaries around what it pompously judged to be good, just, pure, and perfect."[2] Within the Western Christian Imagination, the earth, the body, and the feminine have been entombed as categorical "others," or in different terms, they have been understood as the counterpart to what is normative and good—the heavens, the spirit, the "objective" masculine subject.
I believe this is inextricably connected to the "deep pedagogical sensory deprivation" Willie James Jennings describes in The Christian Imagination: Theology and the Origins of Race.[3] Simply put, "Western Christian intellectuals still imagine the world from the commanding heights."[4] I don't fully comprehend Jennings' notion of "deep pedagogical sensory deprivation" within the Christian tradition and Enlightenment Thought more broadly. Indeed, I cannot, for this deprivation has starved my imagination such that it is difficult, if not impossible, to call upon faculties I was never taught to use but was instead taught to suppress. However, something deep within me rises up and cries out in an awareness of the dissonance. I detect the sensory deprivation of my Christian tradition when I am crouched in a row of fledgling tomato plants—fingers deftly pruning back the smaller branches with faith that this act will ultimately yield a stronger plant—and I sense a sacredness within and around me…but cannot verbalize it. In the same vein, it is challenging to articulate why I have faith that farming will ultimately yield a stronger theologian, but I do.
Despite this difficulty, I am hopeful. On the topic of overcoming Dualism within the Christian tradition, Gebara implores that the current moment "offers us the great challenge of learning to think of ourselves in categories that are no longer oppositional, but rather inclusive."[5] I see this movement taking place at The Abundant Table which ambitiously attempts to offer its pupils—visitors, volunteers, and workers like myself—an embodied theological education. In this pedagogical framework, cultivating a familiarity of and affection for the earth (and the infinite life within it) is concomitant with nurturing a love of God, of neighbor, and of self…categories which are far less defined and absolute than we might suppose. The Abundant Table Community has grown out of the recognition that Dualism is "inadequate in explaining the complexity of reality."[6] Undoubtedly, this sophisticated cosmology, which can hold complexity and paradox, is a reflection of this unique community—a farm community which is primarily comprised of women! Yes, I think ecological and feminist theologies have a great deal to teach us about inhabiting our bodies, our faiths, and our shared planet.
[1] Ivone Gebara, Longing for Running Water: Ecofeminism and Liberation (Minneapolis: Fortress Press, 1999), 104.
[2] Ibid., 108.
[3] Willie James Jennings, "Introduction" in The Christian Imagination: Theology and the Origins of Race (New Haven, CT: Yale University Press, 2010).
[4] Ibid.
[5] Gebara, Longing for Running Water, 108.
[6] Ibid., 104.