In Conversation with Charles Marsh on Race, Spirituality, and Public Life
On Wednesday, November 29, civil rights and spiritual leader Ruby Sales will visit Charlottesville to participate in "Every One of Us," a public conversation on social justice and spirituality hosted by Virginia Foundation for the Humanities (VFH). This dialogue between Sales and Charles Marsh will engage Charlottesville community members on critical issues of race, spirituality, and public life. Justin Reid, director of African American Programs at VFH, will serve as moderator. The event will take place from 6 – 7:30pm at the Jefferson School African American Heritage Center. Admission is free, and seating is general admission on a first-come, first-served basis.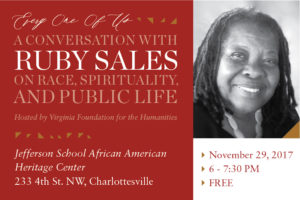 Ruby Sales is a nationally-recognized civil rights leader working at the intersection of race, religion, language, and politics since she was a student freedom fighter in the 1960s. She brings the wealth of African-American traditions to this generative conversation on the most pressing social and political questions in the 21st century. How do we make sense of a domestic and global narrative that reinforces a social hierarchy based on race, gender, class, and sexuality? How can we create a more complete and honest narrative that reflects a world that is majority youth, people of color, and women? What movements or countercultures are needed to accomplish this in modern society? What resources do we have to redress historic oppression, confront white supremacy, and imagine a world where every one of us is embraced in our human community?
As a leading thinker on the relationship between politics and religious life, PLT Director Charles Marsh will speak from direct experience as a Christian raised in the heart of the segregated South. Moderator Justin Reiddirects African American Programs at VFH, where he advances a complex and nuanced telling of African American history through the development of educational resources, including a database of historic sites.
This free, community event has been made possible by the Office of the Executive Vice President & Provost at the University of Virginia. Additional support has been provided by the Black Student Alliance at UVA, the Carter G. Woodson Institute for African-American and African Studies at UVA, the Jefferson School African American Heritage Center, the Office of the Vice President and Chief Officer for Diversity and Equity at UVA, and the Project on Lived Theology at UVA.
If you are unfamiliar with Ms. Sales' powerful perspectives on racial and gender equity, among other topics, listen to her recent interview on On Being. Registration for this free event is encouraged but not required and is available here.
Fellow travelers are scholars, activists, and practitioners that embody the ideals and commitments of the Project on Lived Theology. We admire their work and are grateful to be walking alongside them in the development and dissemination of Lived Theology.
PLT event updates can be found online using #PLTevents. To browse our PLT resource collection, click here. Updates on our resources can be found online using #PLTresources. To get these updates, please like us on Facebook and follow us on Twitter @LivedTheology.