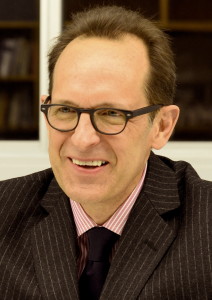 Is belief in God a product of wishful thinking? Does religion promote violence? On what basis do some intelligent people argue that belief in God is rational and others that belief in God violates reason? What are the implications for people of faith?
In spring 2015, Charles Marsh will be teaching a course entitled, "Faith and Doubt in the Modern World." The class will meet on Tuesdays and Thursdays from 2:00-3:15 p.m. with a separate Thursday night discussion section.
This course introduces undergraduates to seminal writings in modern Western thought that explore and question the meaning, truthfulness, and uses of religious belief. The goal is to develop a multi-storied narrative of the variety of interpretations given to the idea of God in modernity and to clarify the conditions of responsible religious belief in a pluralistic world. The class will explore works by Albert Camus, C.S. Lewis, Sigmund Freud, David Bentley Hart, David Hume, Friedrich Nietsche, Dietrich Bonhoeffer, George Eliot, and Wim Wenders, among others.
For class times and locations, visit Lou's List here. The course's identification code is RELG 2380 and the course number is 19644.