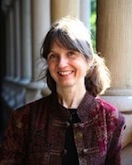 Project alumna and consultant for the Virginia Seminar class of 2014, Susan R. Holman is senior writer at the Harvard Global Health Institute. She received her BS and MS degrees in nutrition, completing her dietetic internship at the Frances Stern Nutrition Center and Tufts University's Friedman School of Nutrition Science and Policy. She pursued further graduate work in religious studies, obtaining an MTS from Harvard Divinity School and a PhD from Brown University. She writes and speaks as an international scholar on faith-based responses to poverty, with a focus on health issues.
She is an academic writer, editor, occasional guest speaker and lecturer, and sometimes-mentor in religion, early Christianity, and social justice issues. Susan is now working on a new book (also under contract with Oxford) that is tentatively titled Just Believing: Global Health and Human Rights for People of Faith. She is also the creator and curator of two websites, Jottings and Poverty Studies, both intended to encourage ecumenical and cross-disciplinary dialogue between the academic study of religion and contemporary community service.
To visit Susan's PLT author page where you can find out more about her past and current projects, along with some fun facts, click here.