New Book Shows How We Can Impose Firearms Restrictions for a Safer Society While Respecting the Rights of Responsible Gun Owners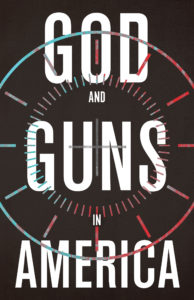 Michael W. Austin is professor of philosophy at Eastern Kentucky University, senior fellow at The Dietrich Bonhoeffer Institute, and a national advocate for gun violence prevention alongside many of today's most prominent interfaith leaders through Everytown for Gun Safety. He's published books on sports and philosophy, ethics and the family, and the virtue of humility. His latest book is God and Guns in America (Eerdmans, 2020). He's on Twitter @michaelwaustin, and you can find more information about him and his work at http://www.michaelwaustin.com.
God and Guns in America (Eerdmans, 2020)
What if Christians did more than offer thoughts and prayers in response to gun violence? Ethicist Michael Austin argues—from a Christian but nonpacifist perspective—that we can impose firearms restrictions to make our society safer and less fearful while still respecting the rights of responsible gun owners. God and Guns in America is a thoughtful, measured, and articulate treatment of a polarizing topic that is too often treated with more heat than light.
Austin uses reason as his tool to help us find our way through the murky, confusing, sometimes jumbled thread of Bible quotes—too commonly cherry-picked and exploited by both sides of this controversy—while he debunks the circuitous arguments that often follow. Austin examines the historical, emotional, theological, and social dimensions of gun ownership, deadly force, self-defense, and the claim by some of a Christian duty to use guns to protect ourselves and others. In every instance, the author presents various and opposing viewpoints, but he never shies away from giving the reader his own sound analyses and succinct conclusions. Of particular interest is his analysis of the relationship between character and some aspects of contemporary gun culture in America.
Reviews and endorsements: 
"Austin's sound arguments, welcoming tone, and emphasis on building peace alongside protections of individual rights have potential to sway Christians on both sides of the discourse around faith and firearms." Publisher's Weekly
"Michael Austin exposes the economic forces that have driven America's gun culture since the end of the Civil War and challenges Christians to be peacebuilders in a violent world, offering a way forward in making it harder for us to harm one another with guns." Rev. Deanna Hollis, Minister of Gun Violence Prevention, Presbyterian Church (USA)
"With insight, brilliance, and conviction, Austin shows us how to match what the Bible, the evidence, and Christian discernment say about God and guns in America with corresponding actions we can undertake to reduce the dangers and suffering that so often attend to them." Rob Schenck, from the foreword
"This is an important book – comprehensive yet concise, well researched yet accessible, with a balanced treatment of the theological, ethical, and legal issues related to guns. Highly recommended!" David Gushee, Mercer University
"God and Guns in America is required reading for any follower of Jesus interested in the gun debate. The book takes the Bible and the gospel seriously, and also has a good grasp of the legal issues and historical background around the Second Amendment, as well as the public policy issues involved with meaningful control of gun violence. Austin advocates a third way between pacifism and just war notions of the use of violence, which he calls 'peacebuidling.' Most readers will likely find something they disagree with, but this is a fine work of theological integration around one of our culture's most vexing issues. It is a substantive contribution and a helpful way forward." Scott Rae, Biola University