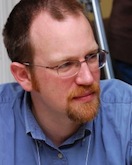 Project alum Pete Slade spoke about the remarkable life and work of John M. Perkins as part of the History Is Lunch series on September 17, 2013 at the Old Capitol Museum in Jackson, Mississippi.
Slade, one of the editors of Mobilizing for the Common Good: The Lived Theology of John M. Perkins, was introduced by former governor William Winter.
To listen to the audio recording of Slade's talk, click here.