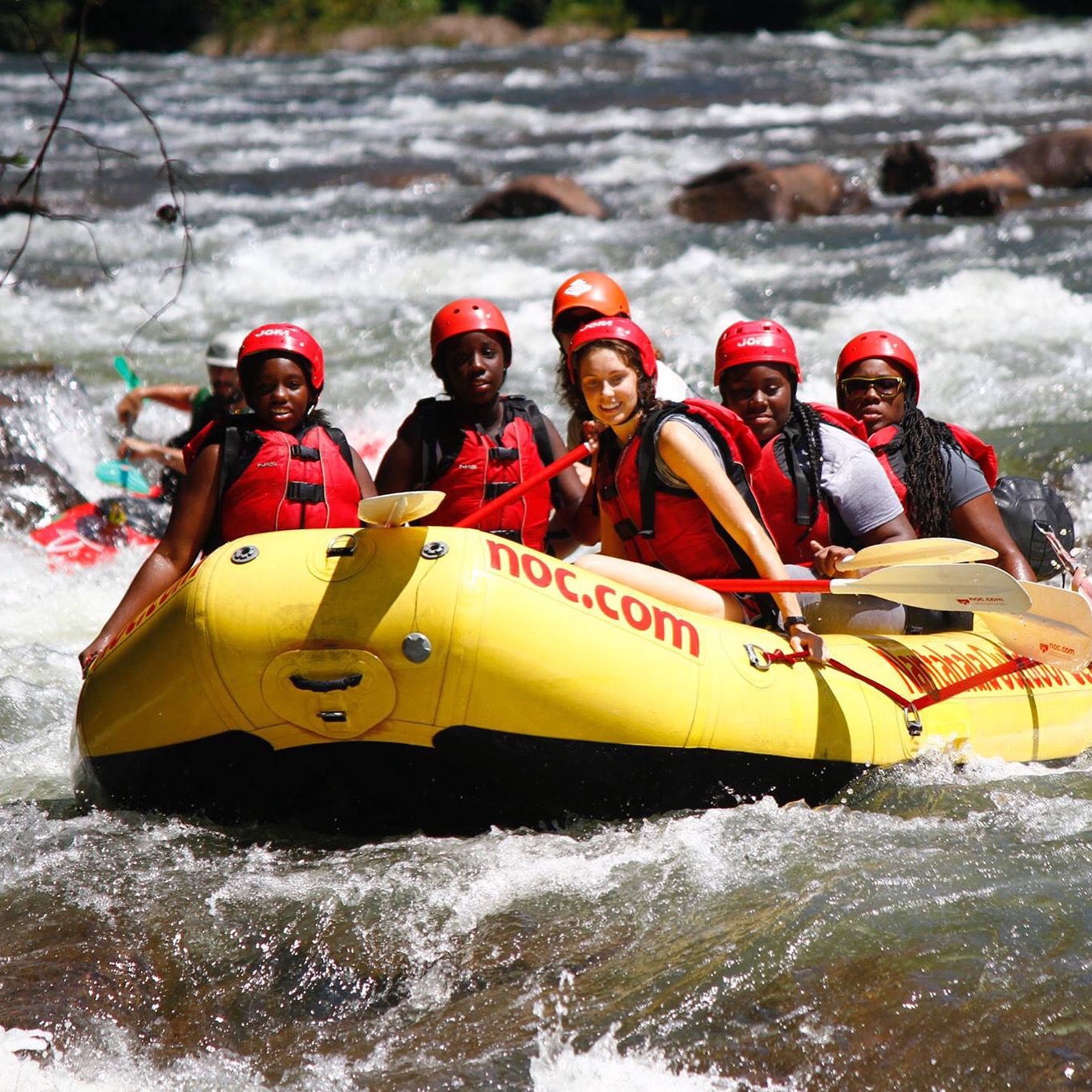 As I mentioned in my last post, our camping trip provided a lot of opportunities to for all of us to take risks. The biggest risk we asked the girls to take was whitewater rafting, the idea of which terrified them all, and they certainly let us know that. After wrangling them all into their swimsuits, water shoes, and safety gear, we managed to get them into the boats, and after a few safety instructions from our guides Parker and Gareth we were on our way. Much to their relief, our first rapid was not the large drop off created by the dam release, as they thought at first, but a nice, easy class II. As we got the hang of listening to Gareth and working together to navigate the rapids, the girls' fear and trepidation began to turn to delight and excitement as we conquered each successive rapid. At one point, maybe three or four rapids in, one of the girls behind me emphatically declared that she was now ready to go back and do that first waterfall now. Seeing the fear and uncertainty wash away before my eyes filled me with an inexpressible joy that I think was just a little glimpse of the joy the Father must feel when he sees us trust him to lead us into rough, uncharted waters and we discover how exhilarating a life of faith can be.
As I thought and prayed about it, God revealed more about how our rafting experience reflects life in the Kingdom of God, and as cheesy as it may be, this metaphor proved a useful instructional tool to process through with the girls. From the outset it was important that we were all aware that rafting is an inherently risky activity, filled with a good deal of uncertainty. When one decides to follow the teachings of Jesus as reflected in Christian scriptures, it's a leap into uncharted waters. Really the only way we were able to convince the girls to take the plunge was by assuring them of the many ways their ultimate protection was taken care of.
Before we even got on the water, each of us put on the required safety gear: a helmet, life jacket, water shoes, and paddle. Similarly, in Ephesians 6:10-18, Paul describes the way that a Christian should clothe him or herself with the "whole armor of God," including the "breastplate of righteousness," shoes with the "readiness to given by the gospel of peace," the "helmet of salvation," and the "sword of the Spirit" (in this case we'll say "paddle" of the Spirit). Along with the gear we received a detailed presentation on safety procedure and what to do in pretty much any situation imaginable. We were surely still nervous as we boarded the bus that took us to the river, but we did take comfort in the protection of the gear and the knowledge we'd just acquired.
Even with all of this gear, it still wouldn't be the most pleasant experience to be dropped in and sent down the river, trying to battle rocks and trees as the current sweeps you along. Thankfully, we were able to tackle the rapids from the relative comfort of a raft, with the added support of other people to paddle with you. In our Kingdom metaphor, the boat and the crew are the Church and the body of Christ, put in place so that no one will have to navigate life in isolation. Within the boat we had pace-setters sitting up front to keep us in rhythm. It was important that these members were in sync, as everyone else looked to them and followed their lead. These pace setters, in the context of the Church, would be older, more mature and experienced believers who are a resource for mentoring and discipleship of younger believers. One of Rebirth's goals as an organization is to provide "pace setters" to speak into the lives of the kids in the ministry, to make sure they have people to support and encourage them in pursuit of a Christ-centered life.
And then, of course, we come to the most important part: the guide. No amount of safety gear, or instructions, or fancy rafts, or other rafters, could have kept us safe if it weren't for our guides. They knew the river forwards and backwards, all the places to avoid and all the ways to get down it safely. They were clear and direct with their instructions, and although they would've been able to navigate the river alone, they still involved us in the process. Despite our best intentions, there were many times where we were unable (or unwilling) to follow directions perfectly; most often when going through a big rapid, your first instinct is to stop paddling and hold on for dear life. Even still, our guide never got mad or wavered in his determination to get us through safely. They did not, however, only focus on protecting us; they also made sure that the process was enjoyable, and even gave us opportunities to challenge ourselves by taking optional rapids just for fun. If our two rafting guides, who had only known us for a period of minutes, hopped in a raft and promised to get us to the end of the river safely while helping us enjoy it as much as possible, how much more does the heavenly Father who created and knows us each intimately, want to protect us and see us take delight in the world he created?
More than any other part of this metaphor, Rebirth staff member Lori and I wanted to make sure each girl understood the truth behind this somewhat silly comparison: we believe in and serve a God who guides us through each rapid we encounter in life. Particularly for these girls, who have seen more rapids in their twelve to eighteen years than many people will in a lifetime, we need them to know that God not only guides us, but is also there in the boat, fighting for us, even when we drop the paddle, close our eyes, and hold on tight. And along with protecting us, God wants us to enjoy his creation, to take delight in the excitement of life's joy and beauty.
As mentors and leaders, there's no shortage of wisdom and experience the staff of Rebirth wants to impart on the kids in the ministry, and I see them work tirelessly at this goal every day. In my capacity as an intern, my main roles were to serve and observe, but more than anything I think I was there to learn. From Mo, I learned so much about calling and commitment, theology and scripture, and the hard truths about life in urban ministry. From Lori, I saw generosity and selflessness poured out in everything she did, and learned what it takes to love sacrificially. And from the kids, I learned more than I ever thought: how to find joy in the moments big and small; how to laugh like I really mean it; how to do some dance moves that maybe, just maybe, will make me a little cooler; and what the word resilience really means. As I enter my fourth year at UVA and look to what's next, I feel like the girls did when they first saw that waterfall: terrified and completely unsure of what to do next. Whenever the drop-off gets too overwhelming, I will cling to the twelve-year-old wisdom that assures me that as scary as it looks, the waterfall is really just another exciting adventure up ahead.
For updates about the PLT Summer Internship, click here. We also post updates online using #PLTinterns. To get these updates please like us on Facebook and follow us on Twitter at @LivedTheology. To sign up for the Lived Theology monthly newsletter, click here.