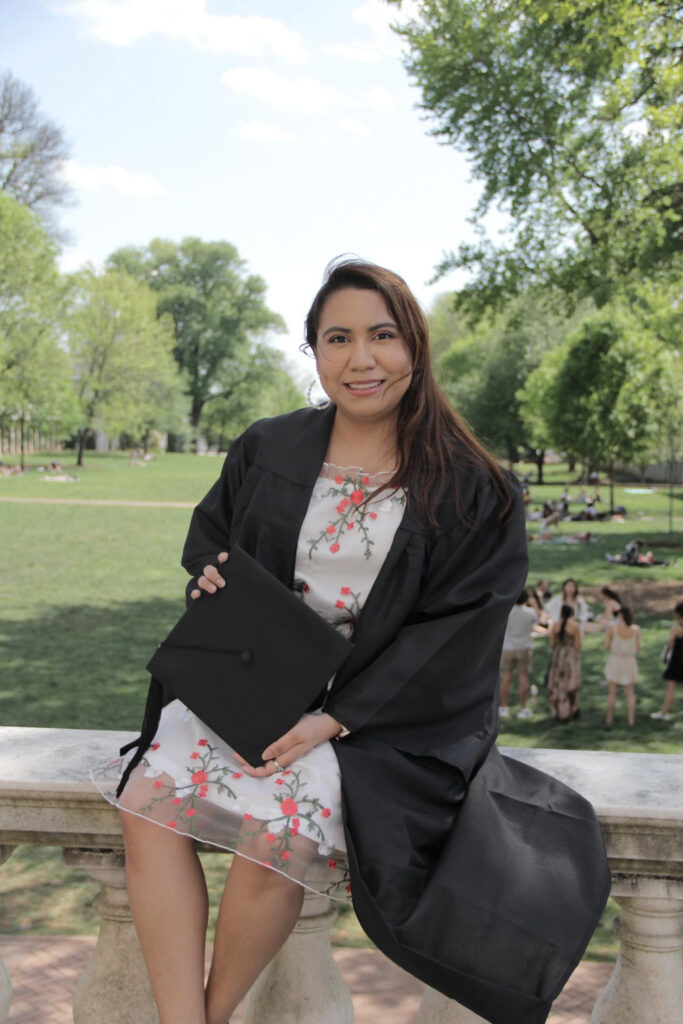 The Project on Lived Theology (PLT) congratulates UVA Fourth Year Diana Guzman Lugo on her acceptance to the Candler School of Theology at Emory University, where she will be pursuing a Masters in Divinity. Diana hopes to become a pastor one day so that she can eventually foster a church community that emphasizes vulnerability, curiosity, knowledge, and love.
PLT Research Fellow Emily Miller had the opportunity to sit down with Diana and learn more about her incredible life story. Diana's dream to become a pastor is a result of her unrelenting inquisitiveness and faith. In her entire life she has only ever seen two female Hispanic pastors, and seeks to increase representation with her own entrance into ministry. Already having experience preaching at youth services, she has a rich passion for church history and understanding the Bible. All the while, she emphasizes the importance of remaining humble and always continuing to ask questions. In addition, she feels that she wants to see mental health issues addressed more openly in a church setting. Through her time at her home church and especially during her time at UVA, Diana says that she often found herself asking, in her own words, "How can I say God is my strength when I take antidepressants?"
Diana describes her mental health journey as something that has deeply informed her career and life path. Having dealt with the death of her father and losing her home to a fire, both when she was very young, Diana says that she learned to compartmentalize her emotions instead of feeling them. "I stopped crying." she said, "In college, I realized that I needed to cry."
Diana dealt with a depressive episode during her undergraduate career that almost uprooted her: having lost hope and struggling academically as a result, in retrospect she believes that her faith and community are what kept her going. Diana ended up switching from computer science to a religious studies major, finding that she thrived in spaces that reckoned with spiritual and philosophical questions that she'd always had. She names History of Christian Ethics and Modern Theology as classes that she found particularly invigorating. In addition, she particularly enjoyed PLT Director Charles Marsh's class, Anxiety: Religious and Theological Perspectives, saying that seeing "God and mental illness seated at same table" in the class themes was refreshing and comforting for her.
Marsh describes Diana as an excellent student and one of the people who kept his Anxiety class invigorating: "Diana engaged the readings as if her life depended on them. Her written work reflected a facile mind, undaunted by complex ideas and ponderous arguments, alert to the ways they might invigorate a more generative relationship between theological and psychological life… Diana was a joy to teach for a more pragmatic reason as well – and this is worth noting. If the room fell silent during a class discussion, she was the one I could turn to for a deft insight efficiently conveyed. What professor is not ever grateful for the reliably insightful interlocutor."
Diana was also an active participant in Chi Alpha at UVA and was the co-president of Yahweh Night at UVA. She credits both Christian communities for helping her, in her words, "get out of bed in the morning." As vice president of Yahweh Night for one year and co-president for two years, she has coordinated the bi-annual multicultural worship night which includes words of encouragement, music, and praise dance. In her Chi Alpha community, she has found invaluable support from her peers and realized through this community that God fights for and with her in her struggles.
Her religious studies advisor, Janet Spittler, first encouraged Diana to pursue graduate school. Diana describes this as a realization that instantly felt right for her and was immediately something she knew she wanted. She received full scholarships from Duke University and from Candler School at Emory, and decided to go with Candler- her dream school. In the future, Diana hopes to write a book on death and eternity- topics that she's relentlessly curious about- and looks forward to engaging in deep dialogues about these and more during graduate school.
The Project on Lived Theology at the University of Virginia is a research initiative whose mission is to study the social consequences of theological ideas for the sake of a more just and compassionate world.