Will Complete Book on How the Contemporary Religious Left Emphasizes Deed Over Creed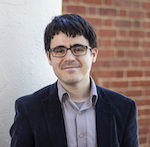 As a recent graduate of the doctoral program in Religious Studies at the University of Virginia, Isaac Barnes May specializes in American religious history, specifically religion and modernity, liberal religion, and the religious left. He is particularly interested in the study of pacifism, religion and law, and how religious groups respond to the pressures of secularization. As a Project on Lived Theology research fellow this summer and during the 2020-21 academic year, May aims to turn his dissertation into a book that he hopes will reach beyond academic circles.
May's work, God-Optional Religion in Twentieth-Century America: Quakers, Unitarians, Reconstructionist Jews, and the Crisis Over Theism, focuses on how the intellectual shift to embrace non-traditional views of God shaped the contemporary religious left, changing how that movement dealt with politics, peace activism, and race. It charts the history of an interconnected intellectual world of religious liberals—Protestants, Jews, and Humanists—who saw themselves as reluctant modernizers, struggling to preserve their communities against the corrosive forces that cultural critic Walter Lippmann dubbed the "acids of modernity."
"Thanks to The Project on Lived Theology, I can now sharpen my research ideas and maintain an active role in the scholarly community at UVA," said May. "I am excited to have the chance to refine my writing with the input of collaborators from the project, and work with them to think through how the historical figures in my study sought to embody their theological commitments."
A graduate of Earlham College and Harvard Divinity School, May has contributed to The Cambridge Companion to Quakerism, and his research has been published in journals such as Peace & Change and Religions.
The Project on Lived Theology at the University of Virginia is a research initiative, whose mission is to study the social consequences of theological ideas for the sake of a more just and compassionate world