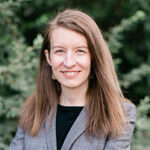 The Project on Lived Theology at the University of Virginia welcomes Kim Curtis as its new communications and event coordinator. Kim brings more than fifteen years of experience publicizing events and initiatives at UVA's Washington Papers, UVA's Miller Center, and Monticello.
"Having grown up in the United Methodist Church, I have always valued social justice," said Kim. "My academic career path has coincided with my interest in history, my fascination with religion, and my appreciation for free inquiry and the inclusion of different perspectives. I believe my background and values align perfectly with The Project on Lived Theology's mission, and I'm so honored to have joined this well-regarded and worthwhile endeavor."
One of Kim's first goals at The Project on Lived Theology will be to create a comprehensive communications strategy, including (but not limited to) web content, social media, and outreach. Kim built a similar communications plan for the Washington Papers, a project that is publishing the correspondence of George Washington and his family. In addition to managing the Papers' communications efforts, Kim co-edited the upcoming print and digital editions of correspondence written by and to Martha Washington as well as other significant documents pertaining to her life. The collection will include around 400 documents, eighty of which have never been published before.
Prior to working at the Washington Papers, Kim promoted events and programs at the Miller Center, a nonpartisan organization that specializes in presidential scholarship and public policy. She also served as managing editor for the Center's print and digital content. While at Thomas Jefferson's Monticello, Kim worked with visiting film and television crews, including the BBC, the History Channel, and HBO's John Adams miniseries.
Kim earned a bachelor's degree in Psychology and Classics (double major) from UVA, and a master's degree in Cinema Studies from New York University.
"In addition to her impressive communications and organizational skills, Kim brings with her a deep familiarity with the UVA and Charlottesville communities," said Charles Marsh, director of The Project on Lived Theology. "I'm thrilled she's joined the Lilly Endowment project and look forward to working together on issues related to faith and social justice in these uncertain times."
The Project on Lived Theology at the University of Virginia is a research initiative, whose mission is to study the social consequences of theological ideas for the sake of a more just and compassionate world.