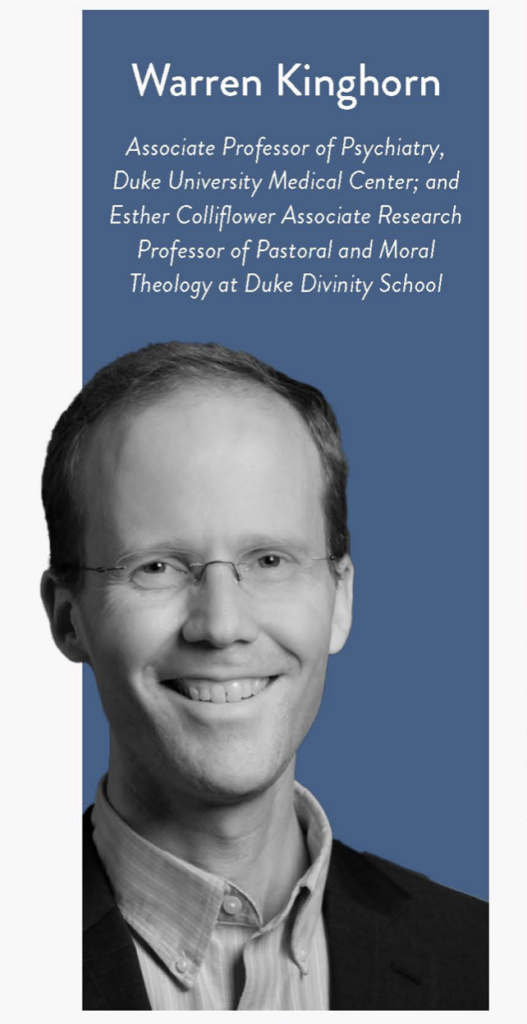 On September 7, 2022, Duke University theologian and clinical psychiatrist Warren Kinghorn presented a talk titled Theological Reflections on the Practice of Clinical Psychiatry as part of a fall seminar taught by Professor Charles Marsh. The seminar, "Anxiety in Religious and Theological Perspective," considered particular theological thinkers on anxiety, such as Augustine and Kierkegaard.
Professor Kinghorn's talk discussed a spiritual approach to mental illness and the use of psychiatric medication. Kinghorn described the increase in mental illness prevalence among college-aged people, as well as "common but perhaps misleading" notions held by medical practitioners about clinical anxiety: individualist anxiety, self-symptom dualism, self-body dualism, technicism, and the mechanization of the human being. Kinghorn also explored Christian affirmations of the capabilities of the human being and offers a take on psychiatric medicine informed by Thomas Aquinas.
Listen to the lecture.
The Project on Lived Theology at the University of Virginia is a research initiative, whose mission is to study the social consequences of theological ideas for the sake of a more just and compassionate world.