by Lilly West, 2023 Undergraduate Summer Research Fellow in Lived Theology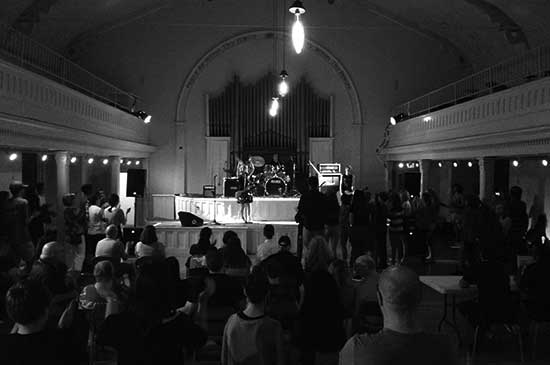 On the second of June in 2003, the Charlottesville Daily Progress reported that real estate developer Gabe Silverman purchased the former Mt. Zion First African Baptist Church building at 105 Ridge Street for $500,000. He noted that his plan for the future of this building would be to find a user "complementary to the history the church has in it."[1] Known for his "generous spirit" and his professional posture of "subtle sacredness," Silverman's various projects around Charlottesville's downtown center began to "knit together a new version of the town" where "people got a taste for what it meant to thrive as a town [and] as a community."[2]
Ultimately, the building was sold to the Music Resource Center (MRC). The mission of the MRC is to serve as a "safe, diverse, and creative community" which "foster[s] the youth of Charlottesville through music."[3] To this end, the MRC provides after-school programs in a variety of creative, musical arts for 6th-12th grade students.
Reverend Edwards of Mt. Zion responded to the new mission of his church's historic space by saying that "Mt. Zion has a good history of music," and indicated that the center would fulfill his hopes for the building. "I respect the historical fact about what it's been and what it's meant to the community," he shared, "but for me, as long as it serves the needs of the people of this community, I'm okay with it."[4]
Considering the inhabitants of 105 Ridge Street, I have been reflecting on the role of physical space in community formation and vitality. As one Charlottesville Daily Progress reporter noted, there is a harmony to the reimagined space, woven together by "new music in the historic setting [and] young people [as] part of an old tradition." The songs this building sings with its life ring with love for its surrounding community, and there is this sense that "the beauty of music sinks into the very bones of the building quietly reverberating to inspire new generations."[5]
Vine Deloria's God is Red invites his audience to reconsider how we understand the role of space and time in religious community. "Space must in a certain sense precede time as a consideration for thought," he argues, because "if time becomes our primary consideration we never seem to arrive at the reality of our existence in places but instead are always directed to experiential and abstract interpretations rather than the experiences themselves."[6] How does our dialogue of "already" and "not yet" erase our lived experience? How do I understand the shaping role of 105 Ridge Street both in the stories I encounter and in God's redemptive story?
I brought my questions to the current inhabitants of the building. Ike Anderson, Membership and Community Coordinator for the MRC, shared his unique story both as a member of the team at the center and as a former student served by the after school programs. Ike[7] experienced the MRC's transition to its current residence in 2003 during his senior year of high school. A photo of Ike cutting the ribbon at the church entrance hangs in the entry hallway to the sanctuary. This physical space, he explained, is so much more than it appears. Centered between Westhaven, Friendship Court, and Prospect Avenue, the building is within walking distance of the communities the MRC serves. The sanctuary, with its "unbelievable acoustics," serves as a performance space for young artists[8]. Stepping into the basement which is now transformed into recording and dance studios, Ike describes his place of work as a "music utopia" and his dance studio as a home. "Nothing knows me like that room," he says through a smile of appreciation.
Robert Cunningham and April Murrie, the pastoral team for Church of the Good Shepherd, tell me their story. Invited to plant Church of the Good Shepherd, they searched for worship space along abstract conceptions of proximity, walkability, general accessibility, and socioeconomic and ethnic diversity. Stumbling onto the space at the MRC, which is not in use on Sunday's, they began a conversational process with Dr. Edwards of Mt. Zion and members of the Good Shepherd congregation with expert knowledge of Charlottesville's racial history. Recalling one of their early meetings with the MRC, April Murrie remembers MRC leadership exclaiming "how excited the Edwards's would be for there to be a church worshiping in the space." Through prayerful deliberation and assurance that they were being faithful to the parties involved, they leased the sanctuary space for worship on Sunday's. Both Cunningham and Murrie attest to Good Shepherd's posture as "guests in the space, blessed by the reverberations of worship that were sung there for generations before [them]." Mt. Zion has built up a "robust missional presence" in the city, which Good Shepherd steps into to "come alongside" with humility and excitement. They share that, while they are unsure how long they will take up residence in this space, their experience stepping into this rich, interwoven history has been formative and will frame the life of their church.
The life of this church building has not only been shaped by the passion of human activity within, but it also has shaped the lives of multiple congregations, communities, and individuals in return. Here's where I'll reach for "relatedness" from Ivone Gebara. Gebara suggests that God is relatedness, as seen through Creation's web of "interdependen[t] life systems."[9] This related reality "cannot deny all earlier moments and former phases."[10] In fact, like music sinks into the frame of 105 Ridge Street, "our human experience is, in fact, to place ourselves within the tradition of our ancestors, of those whose bodies vibrated as ours do" in the physical, lived experience of space and history[11].
---
[1] Charlottesville Daily Progress, 6/2/2003.
[2] https://www.cvilletomorrow.org/gabe-silverman-architect-developer/
[3] https://musicresourcecenter.org/about/mission/
[4] Charlottesville Daily Progress, 9/7/2003.
[5] Charlottesville Daily Progress, 9/15/2003.
[6] Vine Deloria, God is Red (73).
[7] Ike requested that I call him Ike because "Mr. Anderson is from the Matrix."
[8] Fritz Berry, Charlottesville Daily Progress, 9/7/2003.
[9] Ivone Gebara, Longing for Running Water (28).
[10] Ivone Gebara, Longing for Running Water (48).
[11] Ivone Gebara, Longing for Running Water (50).
---
Learn more about the Lilly's Undergraduate Summer Research Fellowship in Lived Theology here.
The Project on Lived Theology at the University of Virginia is a research initiative, whose mission is to study the social consequences of theological ideas for the sake of a more just and compassionate world.