This is the fourth (and final) in a series of blog posts with reports and reflections by Peter Slade on his two-week lived theology road trip from New Orleans to Memphis in September 2013.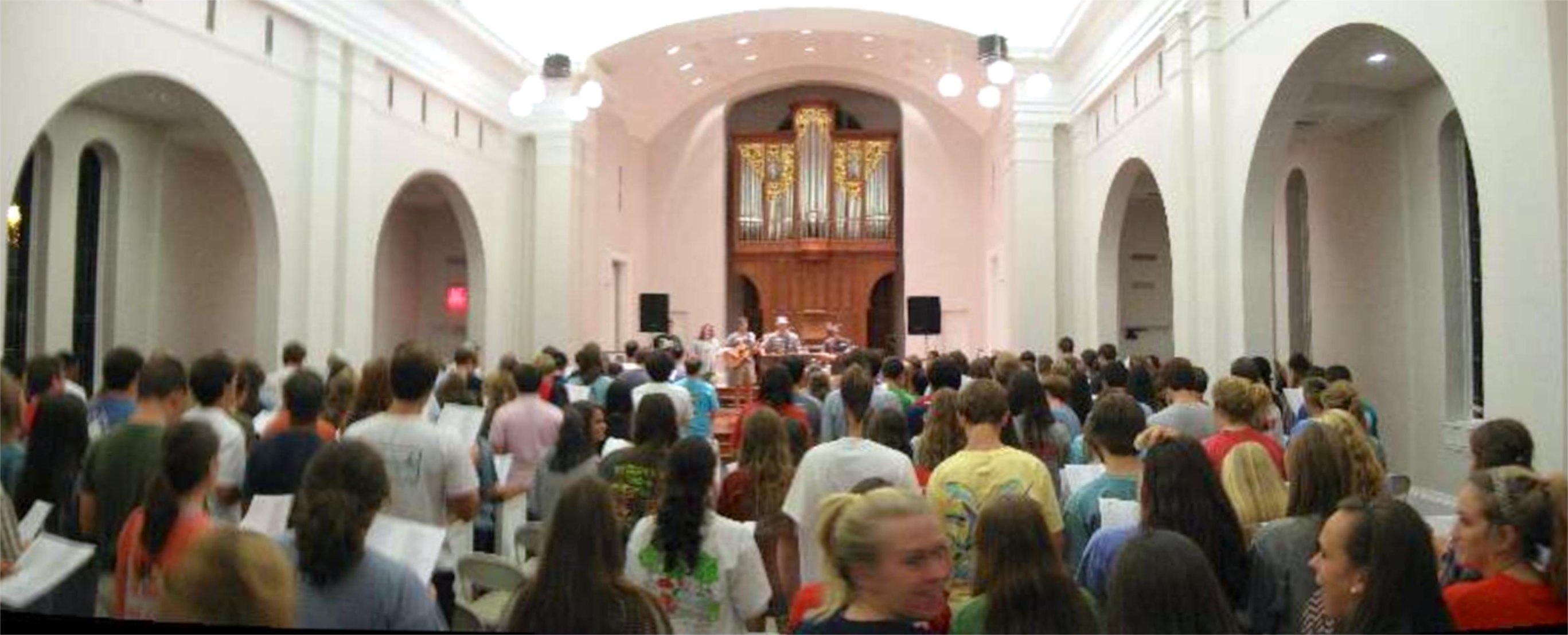 From Jackson I drive north to Oxford, home of the University of Mississippi and a number of my old friends. That Wednesday evening, I slide in to a pew at the back of the campus chapel for the weekly gathering of the Reformed University Fellowship (RUF). The new chapel building is rapidly filling with conservative white Presbyterian youth. Women in shorts, makeup and silk-screened T-shirts reading, "Tri Delta Crush Party" and "Alpha Gamma Delta Swap" pass me as they find their seats. The men are wearing a uniform of baseball caps and check cotton shirts.
"In the week of rush we will not meet on Wednesday" is one of the announcements. I am back in the world of the Greeks.
RUF is the campus ministry of the Presbyterian Church in America (PCA), a southern Presbyterian denomination firmly maintaining its particular brand of patriarchal Scottish Calvinism. Why was I there? Because I was curious to experience RUF hymns in their natural environment. As I mentioned in a previous blog, RUF has developed what it considers to be its own genre of hymnody: they take old hymns and set them to earnestly strummed new tunes. They call it the "ReTune" movement. (See and hear what they want to sound like here.)
This evening in Oxford we sing five hymns printed on a single page hymn sheet. Yep, I said hymn sheet. You don't have to have attended many white evangelical worship services to realize that this is an in-your-face countercultural statement. Where are the projectors and screens? I notice some more subtle eschewing of the contemporary worship culture. The lights are up in the sanctuary: no worship mood lighting here. The young men arrayed at the front are playing acoustic instruments (two guitars, a mandolin and a djembe), but there is no "worship leader"–usually a good looking young man with a guitar–introducing the songs and leading the singing. In fact, the two mic'ed singers–a man and woman–are situated off to the side.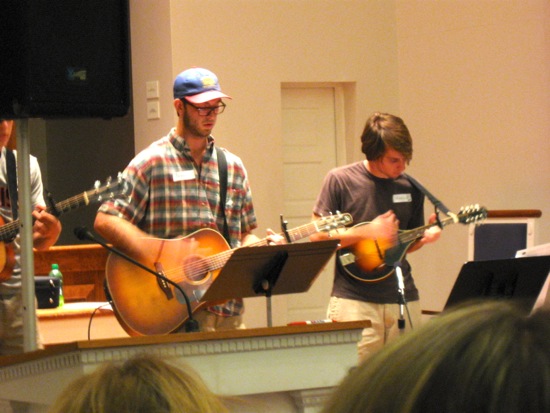 The congregation of well-groomed and well-mannered students sings out in unison, even when a couple of the new tunes seem lackluster. This is their music, and they are committed to singing it.
This wholesale retuning of hymns started at Belmont College in Nashville in the 1990s with RUF campus minister and musician Kevin Twit. I sat down with Kevin over coffee and oatmeal in Nashville earlier this summer, and he explained to me why he encouraged his students to reclaim the hymnody of some eighteenth-century evangelical poets who struggled with bereavement, disappointment, depression and suicidal tendencies. (See the biographies of Anne Steele and William Cowper if you think I am exaggerating.)
"I would sit here at this table and talk to students who had grown up in churches about doubts they were experiencing, and they would conclude that they must not be a Christian."
Twit was talking about what he sees as the tendency in popular evangelical spirituality to believe "that the assurance of salvation is made the basis of salvation."
"And I would say, 'Well, have you read the Psalms?' and generally, no, they hadn't. And it slowly dawned on me that it was the songs they were singing that were really the main influence on what they felt the Christian life should feel like."
Twit's solution? He started putting old (and often forgotten) hymns into the student's hands.
"There was a sense that what is working for these baby boomers is not working for my college students." Back in the 1990s RUF's women musicians were "listening to Alanis Morissette–an honest expression of anger in music–and wondering why the church can't speak truthfully and honestly about that. And so when I find Anne Steele and hymns like 'Dear Refuge of My Weary Soul.' I thought, Oh my gosh, this is the angst that my students feel and they have got no way to express it."
Of the five hymns we sing at RUF in Oxford this evening, all come from the so-called RUF Hymnbook, a free online database of songs, chords and lead sheets. Three are from the early eighteen hundreds but it is the last hymn, "Rock of Ages (When the Day Seems Long)" that communicates to the students what the RUF Christian life feels like: God's faithfulness despite our feelings.
Rock of Ages, when the day seems long
From this labor and this heartache, I have come
The skies will wear out, but you remain the same
Rock of Ages, I praise your name
Kevin Twit wrote the tune and Sandra McCracken, one of the original Alanis Morissette-listening RUF students, wrote the words. The students sing the chorus with purpose and passion. At the front, a young man wails on his mandolin.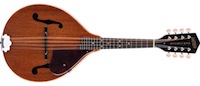 The following Sunday, I went to Rivers Hill Church of Christ in Oxford, Mississippi. No mandolin pyrotechnics here. Rivers Hill is a small African American congregation that does not hold with musical instruments or even clapping to accompany the singing on Sunday morning. I first went to this church in 1997 when, in the interests of research for a paper on youth choirs, I cycled up the long hill out of town to attend services.
This morning, I arrive in time for Sunday school. I sit in the small sanctuary in the comfortably padded pews. There is no natural light and my eyes are drawn to the large window shaped hole in the front wall through which, shimmering in fluorescent light, is the image of a waterfall. It is the baptistry.
I am hoping to find some of the people I interviewed sixteen years ago, but more importantly, I want to hear again the singing of this congregation. (Listen to a recording I made in 1997 of the Charles Tindley hymn "Trials Dark on Every Hand.")
As the service starts, I am not disappointed.
"Brother Duke, please lead us in a song."
A young man steps up to the podium and mutters something in a low voice. The only thing I hear is "six hundred and eighty." And then he starts singing.
"There's not a friend like the lowly Jesus,
Singing . . ."
And the congregation picks up with the line "No, not one! No, not one!"
The men carry the tune, and some strong altos push in with their rich, close harmonies.
We are singing a revival hymn from 1895 that has been transformed and rearranged by this black congregation. It is printed in Praise for the Lord, a Church of Christ hymnal, though I don't see many people paying much attention to the book. Indeed, what I am hearing has significant differences to the notes on the page including the sung exhortation "singing" that precedes every exclamation of "No, not one!" (Listen here.)
There are around sixty in the congregation with two pews at the back full of college-age students.
After the service, Douglas Hill, the grandfather of the young man leading the singing, invites me out into the country to eat lunch with his family. Upon arrival, I see cars and trucks parked in the yard and along the road. Several canopies are set up on the lawn and Douglas Hill's daughter-in-law is busy carrying trays of food out to a table with catering-sized stainless steel dishes. I quickly realize this is no regular Sunday meal; this is some kind of unofficial family reunion. (I am sure it is unofficial because there are no T-shirts celebrating the event.)
I am on my best behavior.
We sit outside in the shade and eat catfish, greens, spaghetti, and cornbread followed by pecan pie and banana pudding. Cousins re-introduce themselves and the banter flows as sweet and strong as the iced tea.

As the picnic winds down, I get out my digital recorder and chat with with Miss Opeline Kelly, Douglas and his wife Lolula Hill about their memories of the early days of the congregation: they are three of its oldest members.
Miss Opeline corrects me: "I am the oldest in the gospel," by which she means she was the first to be baptized.
The Churches of Christ have a particularly high view of baptism. Douglas Hill explains this to me: "Baptism is a part of salvation. 'Go ye in all the world, and preach the gospel to every creature' and 'He that believeth and is baptized shall be saved.' Not baptized because you are already saved."
Back in 1959, Opeline Kelly–rather like the RUF students in Nashville forty years later–was unable to relate to what she had been told Christians should feel. "In the Methodist church we were just taught: 'You've got to sit on the mourners bench until you feel something.' I didn't know what you were going to feel, so I was sitting there waiting on it." This had proven unsatisfactory: "Weren't nothing to feel!"
Opeline found the straight-forward gospel of the Church of Christ appealing. "They talked about the death, burial and the resurrection of Jesus Christ." She had been sprinkled as a Methodist, then immersed as a Baptist; now she responded to this gospel and traveled to a black Church of Christ congregation in Water Valley to be baptized. (Their own building, a converted house, did not have its own baptistry.)
A year later, Lolula Hill took the same journey to Water Valley and baptism. As she came out of the water she heard the unaccompanied voices of the congregation singing "Are you washed in the blood?" Now a baptized Christian, Lolula joined her voice with the saints.
Lolula had grown up in a lively Pentecostal church with pianos, guitars, tambourines and, if you did not have an instrument, "They'd use their hands for clapping." Accepting this new unaccompanied and undemonstrative musical style did not come easily. "When I came into the Church of Christ," she said, "I thought, this is the most dead thing that I've ever seen! They were sat up in there just like a pressed board sitting there. And no life to it whatsoever."
"So how did you come to love it?"
"Just hung on in there. Just being there every Sunday"
It is this commitment to this community–the baptized saints–that gives this congregation its sense of ownership of these songs and keeps this tradition alive. So often church music surrenders its distinctive sound in the interest of professionalism, to keep the young people coming, or the desire to attract outsiders. It is in this context that I believe the connection between baptism and a distinctive hymnody is significant. If baptism marks the new community of the church, then its hymnody is the sound of baptism. It is the sound of the community of forgiven sinners and reconciled enemies singing a new song together.
This is a powerful thing.
Recalling his own baptism in 387 C.E., St. Augustine writes in Confessions:
The tears flowed from me when I heard your hymns and canticles, for the sweet singing of your Church moved me deeply. The music surged in my ears, truth seeped into my heart, and my feelings of devotion overflowed, so that the tears streamed down. But they were tears of gladness" (Confessions, IX.6-7)