UVA Students Bridge the Gap Between Academia and Area Residents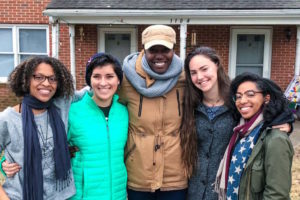 Current events in American social spaces, including the recent white supremacy rallies of August 11 and 12, have made loving your neighbor a difficult undertaking. Named in honor of civil rights activist John M. Perkins, The Perkins House has been established in Charlottesville's 10th and Page neighborhood to commit to this endeavor. Its mission is to give undergraduate students the opportunity to live in a mixed-income, multi-ethnic, and inter-generational neighborhood to prepare them for a lifetime of incarnational ministry and community partnership.
This year's residents, pictured above, include third-year students Ameenah Elam, Sarah Bland, Sade Akinbayo, Isabella Hall and Dominique DeBose. Throughout the year, they will work to build relationships with their neighbors in big and small ways, whether by opening up their home for dinners or simply helping carry groceries. Some will also partner with different nonprofit organizations working in the community.
The John and Vera Mae Perkins Foundation is supporting the new initiative, which director Garrett Trent said exemplifies the civil rights leader's Christian faith and commitment to community development, racial reconciliation and nonviolent activism. These ideals are core to The Perkins House and its goal to mobilize the next generation in Christian Community Development practices in alignment with John and Vera Mae Perkins and CCDA.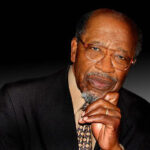 "This house will be a group of young people trying to live out an authentic faith, following the great commandment of loving God and loving each other," Perkins said. "In this world today, there is so much division and violence, and it has been my life's effort – and that of my wife and many others – to live a life of love."
Visit The Perkins House's website here. To read the feature story in UVA Today, click here.
John M. Perkins is a leader and major figure of the civil rights movement of the 1960s who founded Voice of Calvary Ministries, a Christian community development ministry, with his wife, Vera Mae. In 1983, the Perkinses established the John and Vera Mae Perkins Foundation for Reconciliation, Justice and Christian Community Development.
Fellow travelers are scholars, activists, and practitioners that embody the ideals and commitments of the Project on Lived Theology. We admire their work and are grateful to be walking alongside them in the development and dissemination of Lived Theology.
For more resources from our Fellow Travelers, click here. To engage in the conversation on Facebook and Twitter, @LivedTheology, please use #PLTfellowtravelers. To sign up for the Lived Theology monthly newsletter, click here.