by Emily Miller, 2022 Undergraduate Summer Research Fellow in Lived Theology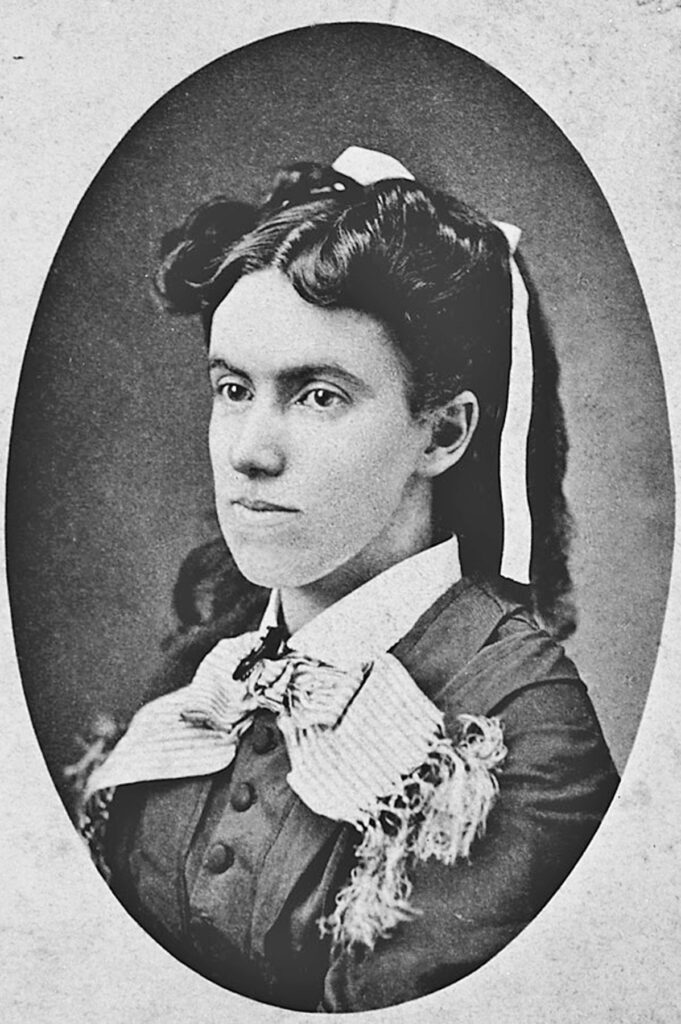 Charlotte Digges Moon, nicknamed "Lottie" Moon, is renowned throughout Southern Baptist history as a pioneer of Chinese missions for women, and her story begins right in central Virginia. A member of Charlottesville Baptist Church (before there were the two First Baptists), Miss Moon would help pave the way for Baptist women in ministry. Though this is something of a deviation from the history I've told in my previous blog posts- specifically, that of the church split- Lottie Moon's story follows a tangential trajectory toward spiritual liberation.
Lottie Moon was born in 1840 to Edward Moon and Anna Barclay Moon and named for her paternal grandmother. She had eight siblings, though two died in early infancy. Her parents were wealthy landowners in Scottsville, Virginia, and prioritized educating Lottie and her sisters. Known as one of the best educated women in the South, she ended up attending Albemarle Female Institute to receive her Master's degree, which was common at the time for educated women in the Charlottesville area since they could not yet attend the University. 
Lottie felt indifferent toward her Southern Baptist upbringing, and her friends from school frequently prayed that she would orient her curiosity and thirst for knowledge toward spirituality. In December of 1858, a series of revival meetings were taking place at Charlottesville Baptist Church, led by the Reverend John Broadus, one of the original founders of the Southern Baptist Theological Seminary. Moon arrived at one of these meetings without the intention of becoming a Christian, but was baptized by Broadus and gave her life to Christ. In her book The New Lottie Moon Story, Catherine B. Allen writes that "Lottie rose from the waters of the Charlottesville Baptist baptistry a noticeably different woman. 'She had always wielded an influence because of her intellectual power,' wrote Julia [Toy]. 'Now her great talent was directed into another channel. She immediately took a stand as a Christian.'"
Moon began her career as a teacher, moving to Danville, Kentucky to teach at Danville Female Academy in 1866, and later at a high school she opened, Cartersville Female High School, in Cartersville, Georgia. In the meantime, Lottie also ministered to impoverished families at the First Baptist Church of Bartow County, Georgia. In 1872, Lottie's sister, Edmonia, became a missionary in China. Edmonia Moon would be the first single woman to become a Southern Baptist missionary, and Lottie decided she wanted to follow her there in 1873. 
In China, Lottie became committed to being "out among the millions" and was determined to participate in direct evangelism. This would prove an issue, however, as women were discouraged most of the time from ministering to people. For a while Miss Moon was assigned to become a school teacher to particularly unruly children. After 7 years and persistent correspondence with H.A. Tupper of the Southern Baptist Missionary Board about the need for women missionaries, Lottie moved to the Inner Shantung Province to do the direct evangelism she'd set out to do. She connected especially with the Chinese women, learning Chinese herself and taking the time to familiarize herself with Chinese culture. Lottie's preaching would produce hundreds of converts to Christianity, her passion reflected in the letters she sent back to the states constantly asking for more missionaries to join her. Lottie seemed to express concern that Southern Baptist missionaries did not want to interact with cultures different from their own, writing, "People talk vaguely about the heathen, picturing them as scarcely human, or at best, as ignorant barbarians. If they could live among them as I do they would find in the men much to respect and admire; in the women and girls they would see many lovable traits of character… Here I am working alone in a city of many thousand inhabitants with numberless villages. How many can I reach?" (Allen 172).
Lottie Moon would die in 1912 at the age of 72 on a passage back to the States, but her legacy continues. Considered the modern mother of Southern Baptist missionaries, the Lottie Moon Christmas Offering for International Missions, established in 1888, is responsible for half of the Southern Baptist Convention's International Missions Fund. She encouraged women to form their own missionary organizations, being a founder herself of the Women's Missionary Union which is still active today. 
Her dedication to her faith and to helping others led Miss Moon to bravely challenge expectations of her as a woman and break down the walls in her way. A woman from central Virginia and Charlottesville Baptist Church, Lottie Moon's proximity to the rest of the First Baptist's history cannot be overstated. Lottie's determination to lead people to the freedom of salvation, regardless of barriers in her way, is reminiscent of the members of First Baptist Church on Main fighting courageously for their own freedom. These local heroes live out the words of 2 Corinthians 17: "Now the Lord is the Spirit, and where the Spirit of the Lord is, there is freedom."
Learn more about the Emily's Undergraduate Summer Research Fellowship in Lived Theology here.
The Project on Lived Theology at the University of Virginia is a research initiative, whose mission is to study the social consequences of theological ideas for the sake of a more just and compassionate world.