And so we dance. – Kellylee Evans
Graduation ceremonies in the States are like saltine crackers in comparison to the graduation ceremonies in Limpopo. For every bit our graduations are dry, predictable and a little bit square, ceremonies in Limpopo are bursting with color and ceremonial flavor.
It was our last day at Tiyani Clinic. When we arrived, all the community health workers we had trained last week were already in the center of the clinic courtyard dancing with summer-storm fervor. In contrast to the starch, navy blue uniforms they had sported during their training session the day before, today they were each decked out in their finest traditional wardrobes. Brightly colored striped dresses and long beaded necklaces swung around and around their bodies as they bounced and spun. On their hips, the women wore large tasseled belts that moved with maraca-like speed as they shook around the circle.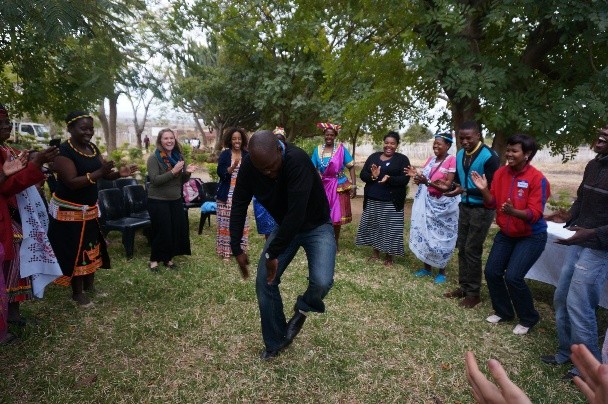 A few of us jumped right into the spiral of dancing. We all marched around the circle together, shaking our hips as fast as we could, until the head nurse called for us all to sit down.
The day continued in a stream of dance. When each woman was called up to receive her certificate for completing our training workshop, the music was turned back on, and she sashayed her way down the aisle. There was a sense throughout the courtyard of dance being the only adequate way to greet good news.
* * *
Throughout this summer, whenever we have gathered together with our community partners in Tiyani or for an appointment at the University of Venda, each meeting has been structured around three main things: an agenda, tea time, and a vote of thanks.
Though I can't speak for all of South Africa, or even all of Limpopo, people in Thohoyandou, it seems, love agendas. Whenever we arrived at a group gathering, within the first five minutes someone would hand us an agenda detailing the proceedings for the next couple of hours. Without fail, each of these agendas included "tea time" about halfway through the proceedings and concluded with a "vote of thanks."
The first time we ever heard about votes of thanks was back at the beginning of the summer, during our orientation day at UNIVEN. During lunchtime, our main faculty administrator from U.Va., Dr. Dillingham, addressed the group of us and said that it was customary for guests to end a gathering by taking a few minutes to thank their hosts for having them and to extol the virtues of the meeting. "It might seem a bit formal to us Americans, but here in Limpopo people are just very explicit about expressing gratitude," she explained. "Would anyone like to volunteer?" I couldn't help but smile. What an exquisite thing to value. My hand shot up in the air.
For the rest of the summer, whenever we had to give a vote of thanks, it became my job. On a couple of occasions people just wrote my name into the schedule and I wouldn't find out until I arrived at the meeting myself that I would be giving the vote of thanks for the day. I loved it though. The whole summer I was plagued by a continual feeling that our team of students could never, through our research, give quite as much to the people we met in Limpopo as they had given to us. So I relished these opportunities to thank them. At times it felt like the only truly worthwhile thing I had to offer.
* * *
The ceremony was winding down and all that was left on the agenda was "Message from a Graduate" and "The Vote of Thanks." As the young community health worker took the microphone and began to speak she said:
"Greetings to you all in the name of our Lord and Savior Jesus Christ, hallelujah, amen!"
"Hallelujah, amen!" chorused the audience of community health workers in reply. The rest of the young woman's speech was in Tsonga, but every couple of sentences she would shout, "Hallelujah!" and the women in the audience would respond, "Amen!"
As I went up to the main stage to give the vote of thanks, I turned to the audience and observed the looks of polite attentiveness on each of the women's faces. I thought about how funny I must look to them, dressed in the style of the elderly women in their communities (we found out very belatedly that only the grandmothers in their village wear floor-length skirts) and lacking the festive accessories that one ought to wear at celebrations like this. I thought about how little they had asked of us during our stay, and how relatively little we had to offer them in return.
And so I began, "Greetings to you all in the name of our Lord and Savior Jesus Christ, hallelujah, amen!"
Each one of the woman's face lit up in surprise. "Hallelujah, amen!" they cheered.
I told them how much I admired them. In the meager bit of "Church English" that we all shared, I told them that I thanked God for having met them and for having been able to spend the summer learning about how they care for their communities. I told them that the greatest blessing of my summer had been to learn that women like them existed, that they had renewed my faith in community health work and had given me hope for the future. After I finished each thought I would say, "Hallelujah!" and the women would respond with a hearty "amen!"
When I sat down again, I was shaking. After a summer of holding focus groups, teaching lessons, blogging and giving presentations, I suddenly had nothing left to say. After a summer of looking for the right words, I had found them in the most familiar of places: hidden quietly in plain view of a shared faith.
Hallelujah, amen.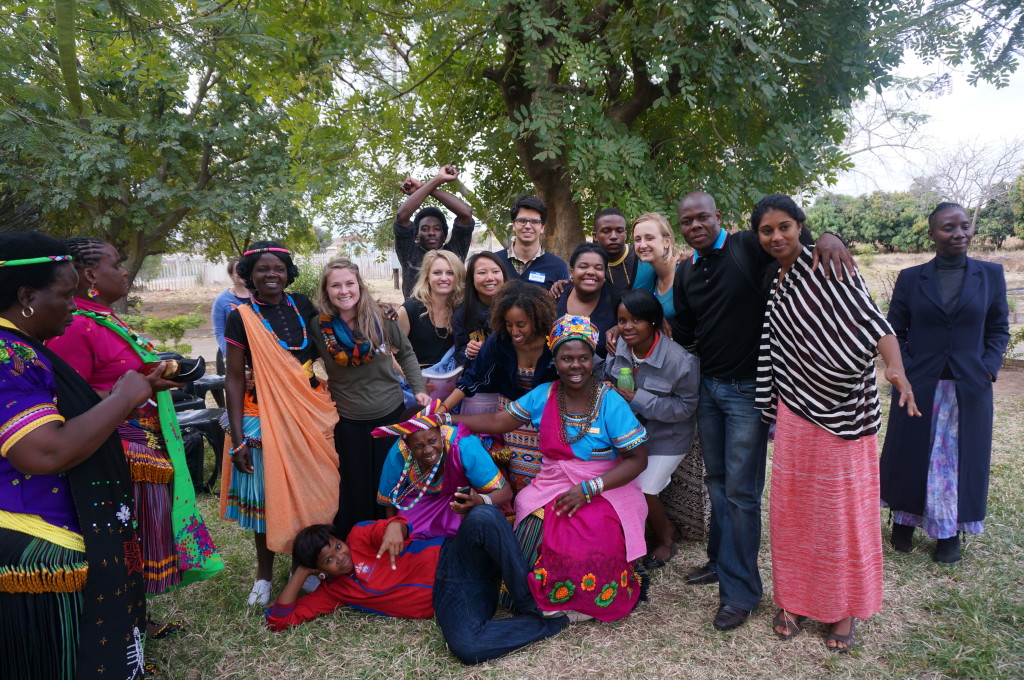 Claire Constance is blogging from Limpopo, South Africa, this summer for the Summer Internship on Lived Theology. Learn more about Claire and the internship program here, and read more internship blog posts here.