"My writing is most influenced by the perpetual paradox of silences in the city." -Susan R. Holman
This fall, we will launch a weekly feature of Project contributors and initiatives. Throughout the week we will highlight the work and reach of these individuals and programs through various posts on our website and on social media. As pre-launch foretaste of this online segment, we'll feature contributor Susan Holman this week. To engage in the exploration of her work and the issues engaged by her scholarship, find the Project on Facebook and follow us on Twitter @LivedTheology. Here is a bit about Susan and some of her recent work.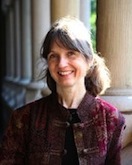 Susan R. Holman is senior writer at the Global Health Education and Learning Incubator at Harvard University and a member of the first class of the Project's Virginia Seminar. She also recently contributed as a writing consultant for the second class of Virginia Seminar members. Her book project with the Virginia Seminar, God Knows There's Need: Christian Responses to Poverty, "blends personal memoir and deep research into ancient writings to illuminate the age-old issues of need, poverty, and social justice in the history of the Christian tradition." Click here and here to read excerpts, and here to read an interview with Susan about this work. Also, you can find resources she's put together related to this topic at povertystudies.org. To visit her Virginia Seminar author page, click here.
In Susan's new book, Beholden: Religion, Global Health, and Human Rights (Oxford University Press, 2015), she "tells stories designed to help shape a new perspective on global health, one that involves a multidisciplinary integration of religion and culture with human rights and social justice." In her photo essay on the Oxford University Press blog, Susan reflects, "Sometimes the most enduring image of how religion affects health is not what you see, but what you don't." Click here to read an interview with Susan related to this wonderful new resource for students of global health.
Recently, Susan contributed to an ecumenical colloquium "Orthodox Christianity and Humanitarianism." Videos of all the panelists can be found by clicking here. Watch her talk on "Theological foundations: Conceptual architectures and definitions of humanitarianism," here:

Click here to check out her blog Jottings and be on the look out this week for more about Susan, her work, and organizations and initiatives carrying out work at the intersections of religion, global health, and poverty. You can find our posts and join in the conversation by liking the Project on Facebook and following us on Twitter @LivedTheology.