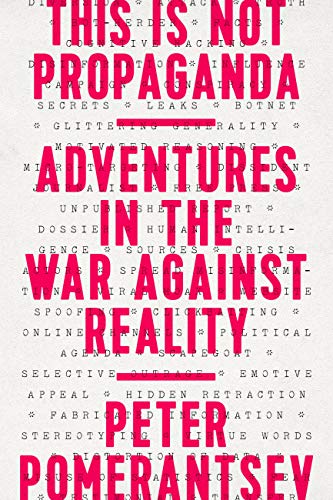 The War on Information
Combining elements of memoir and exposé, Peter Pomerantsev's explosive book, This is Not Propaganda: Adventures in the War Against Reality, transports readers from Soviet-era Russia to the political landscape of the 2016 United States Presidential Election. Pomerantsev describes in the book his own family's escape from Russia after his father's arrest by the KGB in 1978, and from this reference point draws comparisons to the propaganda tactics employed in the 'disinformation age' we now find ourselves in. Recounting his own conversations with "Twitter revolutionaries and pop-up populists, 'behavioral change' salesmen, Jihadi fanboys, Identitarians, truth cops, and many others," Pomerantsev takes a deep dive into a grim reality: that raging disinformation has swept not just communist regimes, but the entire world. This is Not Propaganda explores the weaponization of truth and the steps necessary to combat it, which begin at understanding how we and our personal relationships are impacted everyday by propaganda. Informative and shocking, Pomerantsev demonstrates through his book the global movement of misinformation tactics in their many changing forms.
Peter Pomerantsev is a Soviet-born British journalist and TV producer, alongside being the author of this and another book, Nothing Is True and Everything Is Possible: The Surreal Heart of the New Russia. He is currently a Senior Fellow at Johns Hopkins University's SNF Agora Institute, and was previously a Senior Fellow at the London School of Economics and Political Science. His interests include what he calls "post-modern politics," information warfare, and English identity.
Reviews and endorsements of the publication include:
"The truth was supposed to set us free. But Peter Pomerantsev's brilliant This Is Not Propaganda shows how the very idea of truth has been weaponized by dictators and other enemies of liberty. These techniques, first used against us in Russia, have spread around the globe like a toxic cloud. Taking us from the Philippines to Ukraine to MAGA-land, Pomerantsev is an unparalleled tour guide of our post-truth world-and what we all must learn to survive in it."
-Garry Kasparov, chairman of the Renew Democracy Initiative and author of Winter Is Coming
"In this moving, unusual, and carefully reported book, Peter Pomerantsev reminds us that propaganda is not just a political tool: it can also shape individuals, their relationships with their children, their friendships, their marriages. Far more than just another take on today's chaotic information wars, this book argues that we will have to understand how propaganda seeks to shape our deepest thoughts and feelings before we can confront it."
-Anne Applebaum, Pulitzer Prize-winning author of Gulag and Red Famine
For more information on the publication, click here.
For more of "On the Lived Theology Reading List," click here. To engage in the conversation on Facebook and Twitter, @LivedTheology, please use #LivedTheologyReads. To sign up for the Lived Theology newsletter, click here.