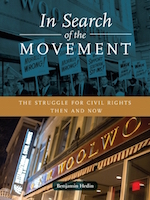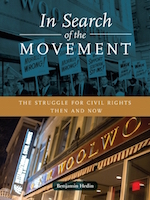 This summer the Project on Lived Theology is updating our resources section. As part of the website facelift (which is still in progress) the Project is creating a list of recommend resources. These resources reflect the work of fellow travelers — scholars, activists, and practitioners — that embody the ideals and commitments of the Project on Lived Theology. We admire their work and are grateful to be walking alongside them in the development and dissemination of Lived Theology.
Our first offering in this new resource format and news series, "On the Lived Theology reading list," is In Search of the Movement: The Struggle for Civil Rights Then and Now by Benjamin Hedin. In this work, Hedin sets out "to find the movement in its contemporary guise, which also [means] answering the critical question of what happened to it after the 1960s."
From the publisher:
Hedin profiles legendary figures like John Lewis, Robert Moses, and Julian Bond, and also visits with contemporary leaders such as William Barber II and the staff of the Dream Defenders. But just as powerful—and instructional—are the stories of those whose work goes unrecorded, the organizers and teachers who make all the rest possible.

In these pages the movement is portrayed as never before, as a vibrant tradition of activism that remains in our midst. In Search of the Movement is a fascinating meditation on the patterns of history, as well as an indelible look at the meaning and limits of American freedom.
For more information on In Search of the Movement, click here.
About the author:
Benjamin Hedin was born in Paris, France, and raised in North Carolina and Minnesota.  He studied music at the College of William and Mary and in the fall of 2002 entered the Graduate Writing Program at The New School in New York City.  After earning his M.F.A. in fiction from The New School he started teaching, first at Long Island University and The New School, and later in the Expository Writing Program at New York University.
Hedin's fiction, essays, and interviews have been published by a number of publications, includingThe New Yorker, Slate, The Nation, The Chicago Tribune, Poets and Writers, Salmagundi, The Georgia Review, The Gettysburg Review, and Radio Silence.  He is the editor of Studio A: The Bob Dylan Reader, widely regarded as one of the finest collections of music writing.  He is also the producer and author of a forthcoming documentary titled The Blues House.  This movie tells the story of the search for two forgotten blues singers, carried out in Mississippi in June of 1964, during some of the most violent days of the civil rights movement.
For more of "On the Lived Theology Reading List," click here. To engage in the conversation on Facebook and Twitter, @LivedTheology, please use #LivedTheologyReads.