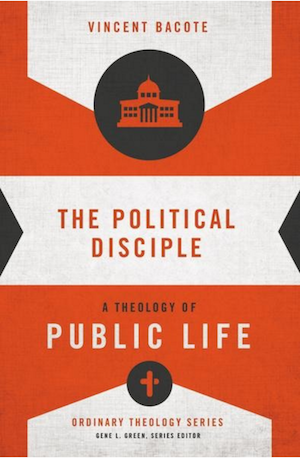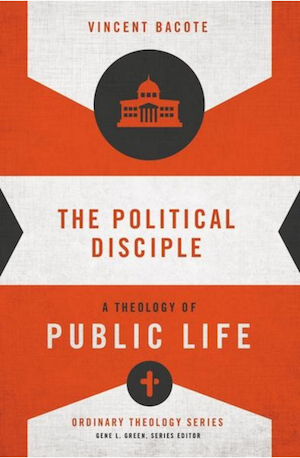 In The Political Disciple: A Theology of Public Life, Vincent Bacote addresses the Christian ambivalence toward political involvement: being active agents in the public sphere is an extension of our Christian responsibility. Rather than withdrawing from these duties in response to increasing partisanship and the ensuing political discord, Christians are to remain faithful to the here and now. Bacote challenges faith communities to re-consider their level of public involvement and what it means to reflect Christ through public service. Political engagement is a necessary duty in maintaining Christian faithfulness.
In his review of The Political Disciple, Project contributor Kristopher Norris writes:
Bacote writes this book for Christians tempted to leave the public square and find alternative models of faithfulness. He argues that, instead, Christians honor God best by "remaining faithful to the task of public engagement" and suggests that we accept our mandated public responsibility. Involvement in politics is simply part of the larger question of Christian participation in secular culture.

Christians are indeed aliens and pilgrims in this world, and primarily citizens of heaven. But our witness to this "otherness" requires public action. "Though Christians have a greater allegiance to God than to any earthly nation or political figure it is proper Christian practice to be a good citizen" (51). We are "kingdom citizens" who are committed to the good of all earthly nations.
For more information on Bacote's book, click here. To read Norris's full review, click here.
For more of "On the Lived Theology Reading List," click here. To engage in the conversation on Facebook and Twitter, @LivedTheology, please use #LivedTheologyReads.