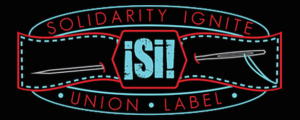 "We are all caught in an inescapable network of mutuality, tied into a single garment of destiny. Whatever affects one directly, affects all indirectly …before you finish eating breakfast in the morning, you've depended on more than half the world. This is the way our universe is structured. This is its interrelated quality. We aren't going to have peace on Earth until we recognize this basic fact of the interrelated structure of all reality." -Dr. Martin Luther King Jr.
Solidarity Ignite is an organization that brings together labor and consumer groups to hold corporations accountable to uphold human rights by changing industry-wide market incentives. They believe that by increasing transparency between workers and consumers, encouraging large-scale support of fair working conditions, and pressuring corporations to respect human rights on the job through real financial consequences, dignified workplaces can be achieved.
The organization has several programs to which interested students may now apply, including a solidarity immersion trip to the Dominican Republic over winter break and a social justice conference in New Orleans in early Spring of 2015.
To find out more about Solidarity Ignite or their opportunities for involvement, explore their website here.