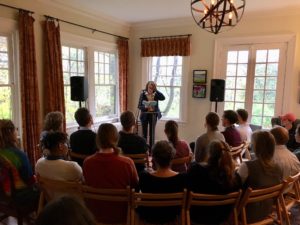 On April 24, the Project on Lived Theology welcomed Patricia Hampl to UVA Grounds to speak on her new book, The Art of the Wasted Day (Viking, 2018).
Hampl spoke in Project director Charles Marsh's afternoon class about nonfiction personal narrative writing, and in the early evening, she read from her book at the Bonhoeffer House. Both events were open to the public.
Students in Marsh's class, God and the Mystery of the World, read Hampl's book and wrote reflections on it in preparation for her visit. Students called the book "a literary sabbatical" and "an inner rebellion against the notion of daydreaming as a sin."
Hampl spoke of the origins of personal narrative writing, referencing Michel de Montaigne, often considered the father of the essay genre. But she clarified that when Montaigne spoke of the essay, he wasn't thinking of a rigidly structured, five-paragraph composition by a high school freshman. "By 'essay,' Montagne meant, 'my thingamajig.' 'My whatever.'" An essay, to Montaigne, was a "portrayal of consciousness."
In our own time and place, Hampl reflected, Americans love the personal voice. We trust it against all the evidence that it is unreliable: people lie, plain and simple. Still, we sense an authority in the first person voice because it connects to our experience of the world.
Hampl reminded us that nonfiction personal narrative writing is treacherous. You can get in trouble on all sides. Readers inevitably raise questions of veracity–"Are you telling the truth?"–and of decency–"Does your mom know that?" And of course, as Hampl has written in her book, I Could Tell You Stories, you can hurt those whose stories you tell along the way. But there is an upside to the treachery: nonfiction can have an particular electricity that fiction often does not have.
You can listen to or watch Patricia's talk here. Her reading is available here. Hungry for more? Read more about her visit in this Cavalier Daily article. And of course, enjoy your own "literary sabbatical" by purchasing her book.
Watch the entire lecture through its resource page here.
Patricia Hampl is a Regents Professor and the McKnight Distinguished Professor in the English department at the University of Minnesota, where she teaches creative writing.
For more event details and up-to-date event listings please click here to visit the PLT Events page. We also post updates online using #PLTevents. To get these and other news updates, please like us on Facebook and follow us on Twitter @LivedTheology. To sign up for the Lived Theology monthly newsletter, click here.