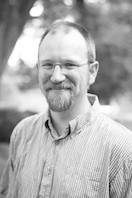 On November 5, 2014, Ashland University Professor and U.Va. alum Peter Slade delivered a lecture at U.Va. entitled, "Open Friendship in a Closed Society: Racial Reconciliation in Mississippi after the Civil Rights Movement." The event included discussions on theological drama and historical narrative, the ministry and church dynamics in Mississippi, and his research, including readings from his 2009 dissertation. Dr. Slade analyzed the idea that a theology of reconciliation can foster a harmonious community out of a racist and socially stratified society. Those in attendance contributed to the discussion with their own ideas and inquiries.
"A young white businessman…had this idea, he called it a vision, of the black and white ministers raising the cross together. If they gathered in repentance around the cross, this was a great symbol of unity. And so this rather odd thing happened on the playing field at Memorial Stadium, where all these guys in blazers raised the cross like they were on Iwo Jima. And this was one of the center points of the rally."
To watch a recording of Slade's lecture, click here.