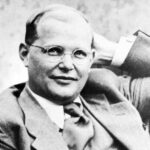 According to PLT director Charles Marsh, "At the level of craft, telling a theological life should be no different than telling any other kind of life. Every good biographer maintains the desire to save a personality from the clutch of familiarity. The challenge is in determining how to enlist the tenets of belief in service to story."
In this vein, Marsh has published an essay, "Resisting the Bonhoeffer Brand: A Life Reconsidered," in which he describes his journey to free German theologian Dietrich Bonhoeffer's life from its scholarly confinements.
In his essay, Marsh states that his "approach was to portray Bonhoeffer in his singular complexity, which is to say, his strange glory." This approach included carefully researching and portraying the seven-year friendship between Bonhoeffer and Eberhard Bethge.
Marsh's essay appears in the most recent issue of The Other Journal: An Intersection of Theology & Culture.
Marsh is the author of Reclaiming Dietrich Bonhoeffer: The Promise of His Theology (Oxford, 1994) and Strange Glory: A Life of Dietrich Bonhoeffer (Knopf, 2014).
The Project on Lived Theology at the University of Virginia is a research initiative, whose mission is to study the social consequences of theological ideas for the sake of a more just and compassionate world.