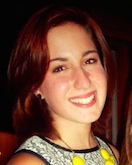 PLT intern Melina Rapazzini spent her summer working at New Hope Covenant Church in Oakland, California. Melina led the church's day camp program for four weeks, leading other interns in serving 20 low-income children from the neighborhood. We asked her site mentor, Russell Jeung, to share some reflections on Melina's work this summer. This is what he said:
New Hope Covenant Church and I were so grateful to have Melina Rapazzini lead our local summer day camp this year! I have to share one story that stretched Melina's faith and that proved her mettle. While leading an environmental tour of a local lake, one new, hyper camper got lost. For over half an hour, Melina ran two miles back around the lake, asking everyone if they had seen the boy. Finally, he was found. When we returned the child to his mother, Melina serenely and sweetly informed her, "We had a little incident…" My image of the Father of the Prodigal Son has now become that of Melina chasing a bratty eight year old around the lake. Both he and Melina have a desperate love to find the lost.
To hear stories from Melina about her time at New Hope, and to hear from our other interns, Caitlin Montgomery and Rachel Prestipino, come to our internship final event on Wednesday, October 21. Learn more here.
For more event details and up-to-date event listings please click here to visit the PLT events page. We also post updates online using #PLTevents. To get these updates, please like us on Facebook and follow us on Twitter @LivedTheology.