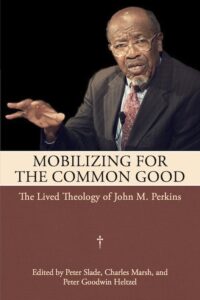 As mentioned in our last news post, the Project on Lived Theology is celebrating John Perkins through the launch of a new published work Mobilizing for the Common Good: The Lived Theology of John M. Perkins, edited by Peter Slade, Charles Marsh, and Peter Goodwin Heltzel.
On July 11 of this year, the essays written for the 2009 Spring Institute for Lived Theology were published in Mobilizing for the Common Good. Peter Slade describes the work as an exploration of "the life and legacy" of John M. Perkins, influential community organizer, minister, speaker, writer, and Civil Rights activist.
The book will be publicly launched on September 13th in a session at the Christian Community Development Association National Conference in New Orleans, Louisiana. Then on September 17th, Peter Slade will give a lecture on John Perkins at the Old Capitol Museum in Jackson Mississippi as part of the Mississippi Department of Archives and History program History is Lunch.
Check back later this week and next for posts from Peter Slade as he journeys through Louisiana and up to Jackson, Mississippi to celebrate John Perkins and this new work about his life and theology.